Artificial Intelligence & Data Science
Design Thinking as a Strategy for Innovation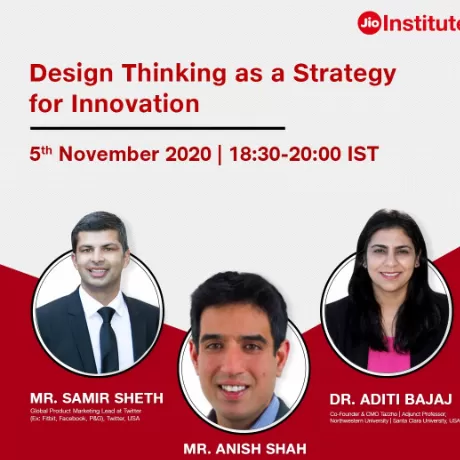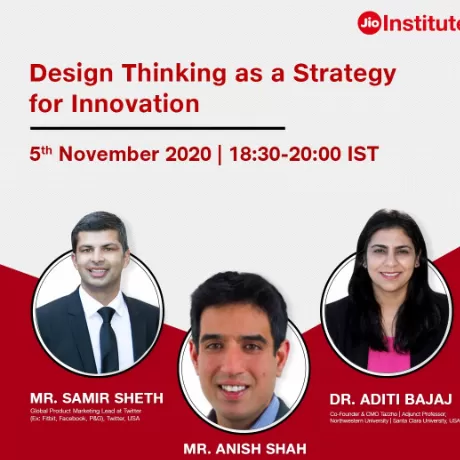 05 Nov 2020 18:30 - 20:00 (IST)
{ "name":"Design Thinking as a Strategy for Innovation", "startDate":"01-14-2022", "endDate":"01-18-2022", "startTime":"10:15", "endTime":"23:30", "description":"Design Thinking as a Strategy for Innovation", "options":[ "Apple", "Google", "iCal", "Microsoft365", "Outlook.com", "Yahoo" ], "trigger":"click", "custom_date":"11-05-2020 / 11-05-2020", "custom_time":"18:30 - 20:00", "timeZone":"Asia/Kolkata" }
Speakers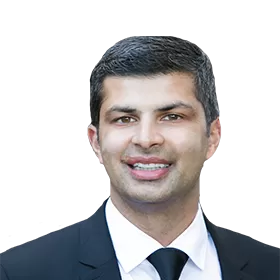 Mr. Samir Sheth
Global Product Marketing Lead, Twitter | Ex Fitbit, Facebook and P&G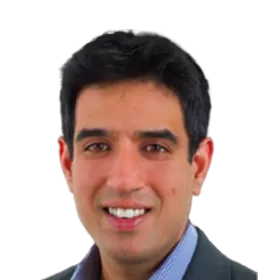 Mr. Anish Shah
Director, Forrester Research, USA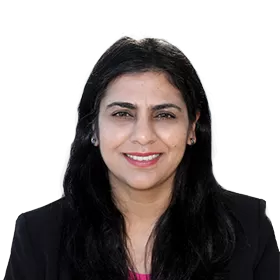 Dr. Aditi Bajaj
Co-Founder & CMO Tazzho | Adjunct Professor, Northwestern University, Santa Clara University, USA
Introduction
The focus of innovation has shifted from being engineering-driven to design-driven, from product-centric to customer-centric, and from marketing-focused to user-experience-focused.
Through synthesizing both data science and design thinking, individuals and organizations can develop innovative solutions to drive AI and automation. By harnessing the concept of design thinking, organizations and data scientists can produce fast, thorough & transformative solutions that have the power to change lives. Design Thinking is a mindset and a human centered approach to define and understand customer requirements, empathize with others, create prototypes of possible solutions and hone those prototypes to develop products, services and processes.
As part of Jio Institute's upcoming Masters in Artificial Intelligence and Data Science program, we would like to invite you to an interactive and informative masterclass on
Design Thinking as a Strategy for Innovation by Dr. Amy Schwartz and Jennifer Levin
In this session, Dr. Schwartz and Ms. Levin will explain, how designing innovative products and services requires defining the problem statement and narrowing it down to its specific focus areas.
The session will also explore Design Thinking as the art of moving between the larger system and the minute design details, that would enable creators to think both systematically and intimately. The session will also have the speakers present case studies and examples that will highlight the process of creating impactful solutions using design thinking methodologies.
What Will You Learn?
How to develop viable solutions for challenges using design thinking and hypothesis-driven innovation processes
Understanding the design process to create unique customer experiences.
How to drive innovative practices utilizing design thinking methodologies
Understanding the nuances of design thinking, digital thinking and Innovation.
Understanding how to apply the concept of design thinking as a way of life
Much more...
Who Should Attend?
Young Professionals
Project Leaders and Managers
Consultants and Educators
Business Analysts
Data Scientists/Researchers/Engineers
UI/UX Designers
Research and Development Professionals
Entrepreneurs
Sales and Marketing Leaders
Engineers and Architects
Design and Innovation Enthusiasts/Practitioner's
Anyone interested in learning about Design Thinking.