Capstone and Industry Immersion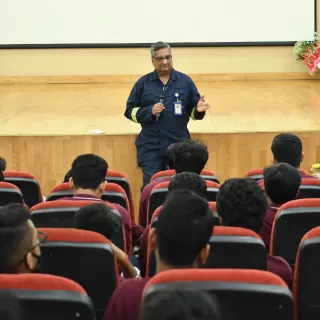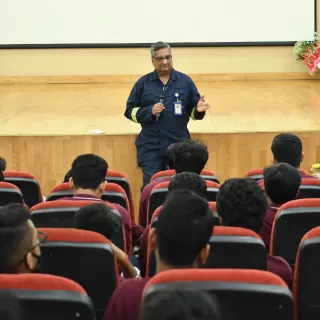 The primary objective Jio Institute is to foster the development of capable professionals poised to emerge as leaders of the future, making meaningful contributions to both industry and society. All students at Jio Institute are presented with opportunities to enhance their practical learning through immersive projects integrated into their academic curriculum. Additionally, they undertake comprehensive capstone projects that serve as the culmination of their educational journey on campus. The institute is committed to facilitating suitable assignments that aid students in shaping their careers. These experiential learning components, intrinsic to our programmes, play a pivotal role in the transformation of students into accomplished professionals.

Capstone projects by PGP Batch of 2022-23
Some of the projects undertaken by student of PGP in Artificial Intelligence & Data Science 2022–23 batch are:
Optimizing the pharmaceutical manufacturing process with digital twin technology (AI in Manufacturing Sector)

The initiative commenced by compiling data from CSV files and progressing to modeling and simulation. Information from diverse sources was aggregated to construct a comprehensive database. This database serves multiple purposes, including assessing various quality facets, facilitating audits, and identifying optimal parameters at different manufacturing phases to achieve the intended outcome in the final manufacturing step.

AI for visualisation: Decoding Data with Visual Analytics Intent Language (VAIL) (Interactive Language Models)

VAIL is a language for modelling user intent, inferring missing or ambiguous intent, and figuring out how to effectively visualize intent. Importantly, the user interacts with the intent, seeing and modifying it, rather than with the visualization, as you would with a system such as Tableau.

AI for Tax Planning

The tax planning tool was a data science project aimed to help individuals make informed decisions about their taxes. The tool uses AI and ML algorithms to analyze the data and identify potential tax-saving opportunities. This involves identifying deductions or credits that the user may not be aware of or optimizing the timing of income and expenses to minimize tax liability. Based on the analysis, the tool provides personalized recommendations to the user. These recommendations could include specific actions to take, such as making charitable donations or contributing to a retirement account, as well as estimates of potential tax savings. The tool will be accessible through a user-friendly interface.

AttendanceXpert

The facial recognition project utilized ML to generate unique numerical representations of faces, which were then compared to a pre-existing database of embeddings for accurate identity verification. The system offers a secure and efficient means of recognizing individuals and is suitable for a variety of applications.

Detection of breast cancer using AI/ML based model and thermal imaging.

Detection of breast cancer is a challenging task and can be life-threatening if not detected at an early stage. Currently, mammography is the most popular method for the detection of breast cancer, and exposes the patient to radiation and causes discomfort. This model developed an approach for the detection of breast cancer that is affordable, non-contact, non-invasive, non-radiation, instant, and accurate. It is based on the principle that cancer cells grow and spread to different regions fast due to their high metabolism. As metabolism increases, the temperature at that region also increases, which can be used to detect the presence of cancerous cells.

Some of the projects undertaken by student of PGP in Digital Media & Marketing Communications 2022–23 batch are:
Increasing fan engagement in motorsport in India

The objective of this project was to devise strategies and initiatives to enhance fan engagement in the motorsport industry in India. By understanding the unique challenges and opportunities in the Indian market, the aim was to increase the popularity and participation of fans in motorsport events, leading to a stronger fan base and a more vibrant motorsport ecosystem in the country.

The Youthful Mind: Unlocking Opportunities for Business Growth and Success

The objective of this capstone project was to identify and unlock business opportunities specifically targeted at millennials. The project aimed to understand the unique characteristics, preferences, and needs of the millennial generation and develop strategies to capitalize on their consumer behaviour and market potential. By focusing on this influential demographic, the objective was to create innovative business models, products, and services that cater to the specific demands and values of millennials.

To develop a marketing strategy for Breast Cancer Screening using AI-Powered Digital Infrared Breast Thermography (ADITI)

The objective of this project was to develop a comprehensive marketing strategy for promoting and raising awareness about Breast Cancer Screening. The project aimed to leverage the capabilities of this innovative technology to enhance early detection of breast cancer and educate women about the benefits of this non-invasive screening method.

Digital Marketing Initiatives and Revenue Generation Efforts for Zoss Water

The objective of this project was to develop and implement effective digital marketing initiatives and revenue generation strategies for Zoss Water, a leading brand. The project aimed to leverage digital platforms and tools to enhance brand awareness, attract and engage customers and drive revenue growth.