Study Abroad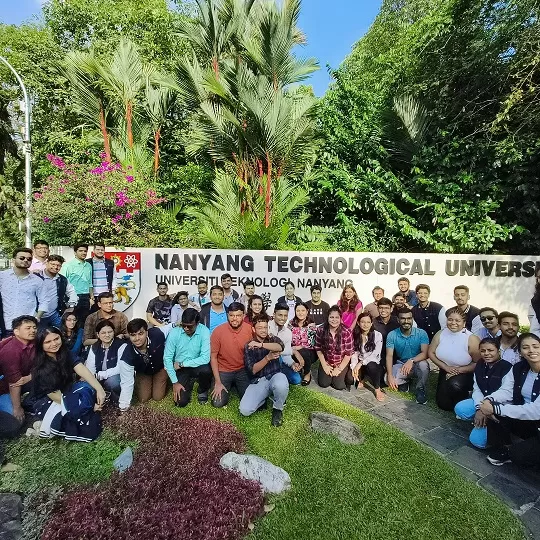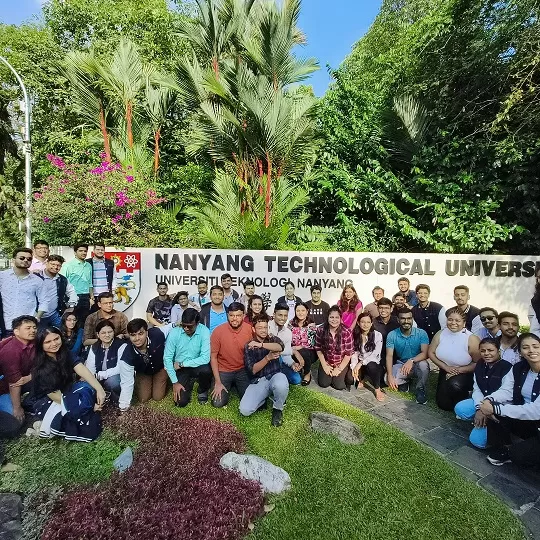 Jio Institute currently collaborates with University of Toronto, Canada; University of California, San Diego, USA, University of Manchester, UK, and Nanyang Technological University, Singapore, for academic and research exchanges. This approach positions Jio Institute at the forefront of global innovation and enables it to develop better solutions to global challenges.
In Academic Year 2022-23, students of the founding batch of Jio Institute went on a two-week visit to Nanyang Technological University, Singapore.
Courses
Students of both courses attended two specialized half-courses each, which included academic components such as lectures, workshops, presentations and several case studies.

AI&DS
'Blockchain Technologies' by Prof. Boh Wai Fong, Professor of Information Systems, Deputy Dean, Nanyang Business School; Head of Information Technology and Operations Management, at Nanyang Technological University, and Prof. Deng Xin, Associate Professor (Practice), College of Business (Nanyang Business School) – Division of Banking & Finance; Co-Director, Centre for Sustainable Finance, and Innovation (CSFI), College of Business (NBS)
'Analytics for Credit Risk' taught by Prof. Fedor Duzhin, School of Physical & Mathematical Sciences – Division of Mathematical Sciences.
DM&MC
'The Human Brain in Business: Consumer Neurosciences and Neuromarketing' taught by Prof. Gemma Calvert, Professor of Consumer Neuroscience, Nanyang Business School, NTU; Founder, Split Second Research Ltd.
'The Future of Customer Experience' taught by Prof. Jonathan Briggs, Adjunct Faculty

Industry Visits
In addition to the academic aspect, the students also embarked on crucial industry visits to prominent organizations such as Amazon Web Services, Dentsu, Burger King Neo Aeronautics, Triple A and Natixis Corporate & Investment Banking. These visits aimed to enhance their perspective on real-world business operations and improve their communication skills within the context of a diverse global business environment.
Cultural Immersion
The students also had the opportunity to explore notable cultural landmarks in Singapore, including the Garden by the Bay, the Art and Science Museum, the Jurong Bird Park, Universal Studios, and more. These experiences allowed them to appreciate the cosmopolitan and modern culture that Singapore embodies.
Jio Institute not only designed this exceptional programme, but has also played an instrumental role in helping the students by covering the expenses associated with tuition fees, accommodation and other necessary arrangements during their stay in Singapore.
Jio Institute remains dedicated to providing its students with a well-rounded educational experience that combines academic growth, industry insights, and cultural appreciation, contributing to their holistic development as future professionals in their respective fields.
Partnerships and Collaborations at Jio Institute Aim to:
Foster exchange of ideas with global researchers, educators and scholars.
Encourage academic and research collaborations with scholars and institutions across the globe.
Build diversity in faculty and student body.
Develop cross-cultural awareness.
Integrate international best practices in education and research for addressing global and national challenges.
Gallery