News
Convergence 2023: Fostering Global Innovation and Collaboration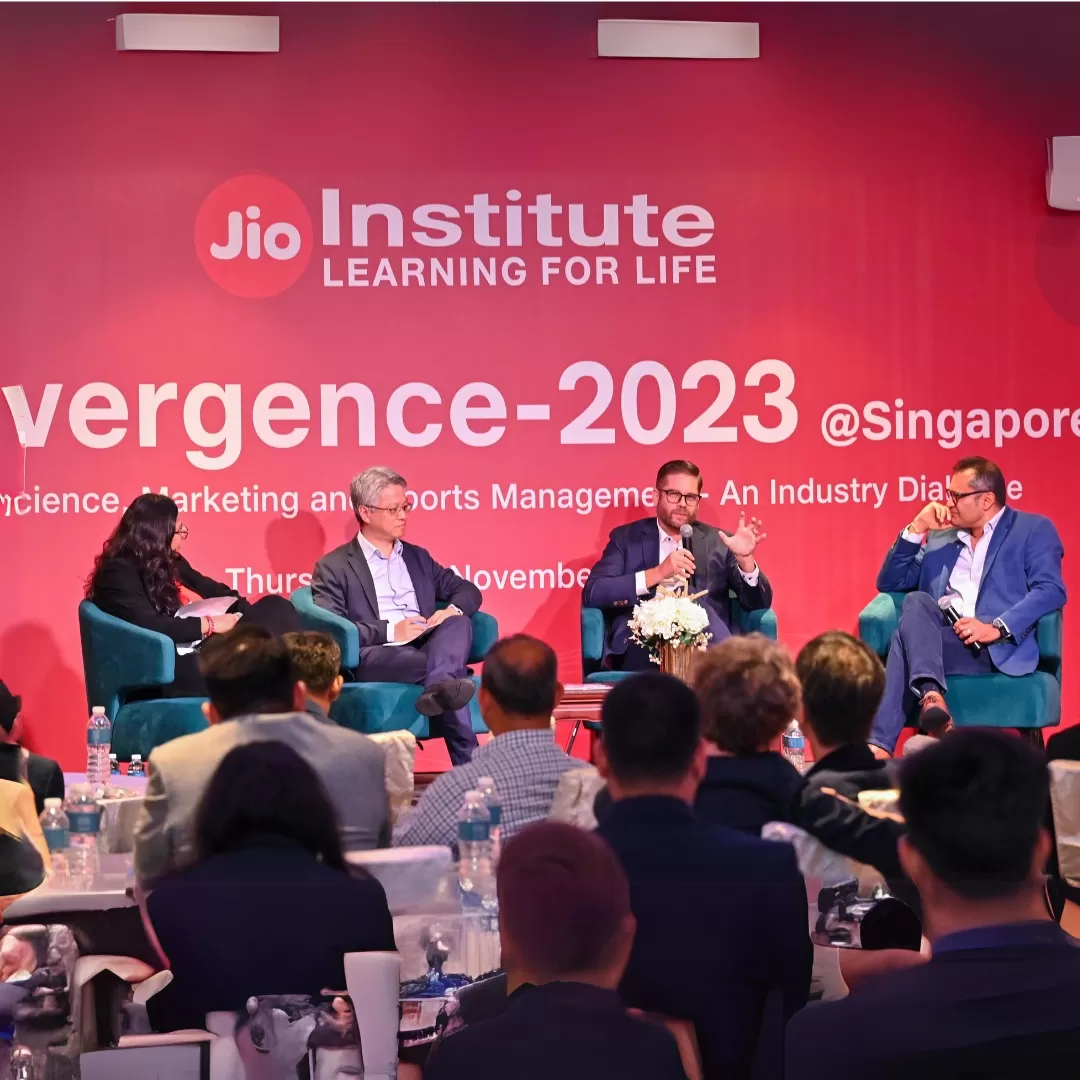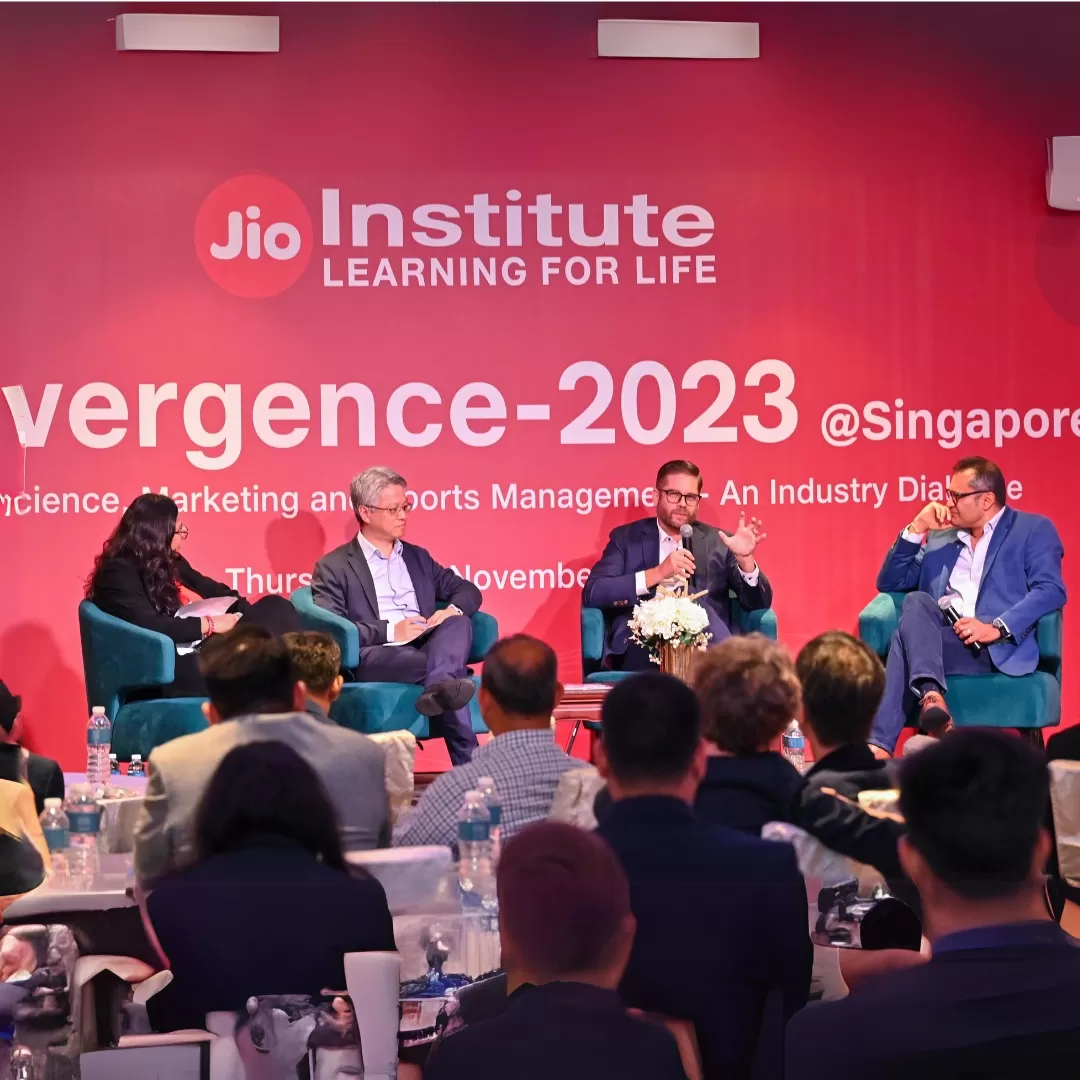 Convergence is a global initiative by the Jio Institute, conceived to facilitate the exchange of knowledge and ideas. Its mission is to create dynamic channels for collaboration between professionals from diverse fields and the academic community, transcending geographical boundaries.

It was a remarkable gathering of minds that explored key industry segments such as Artificial Intelligence & Data Science, Digital Media & Marketing Communications, Sports Management, and New-Age Tech Start-ups. Distinguished keynote speakers, including Yonggang Wen, President's Chair in Computer Science & Engineering at Nanyang Technical University, Singapore, Bjoern Kroog, Head of Product Management for Advanced Analytical Products at GfK (a Nielsen IQ company), and Umish Parthasarathi, Founder & Executive Director of Picture Board Partners and Dr Dipak Jain, Vice Chancellor, Jio Institute shared valuable insights from their respective fields.

Honourable Neil Parekh, Member of Parliament, Singapore and Honourable Ameya Abhyankar, Counsellor, High Commission of India in Singapore, graced the occasion with their presence, alongside industry association leaders, start-ups, Govt. of Singapore delegates, dedicated academicians, Jio Institute students, and the institute's core leadership.

Dr. Palak Sheth, Project Director, Jio Institute, set the tone for the evening with his opening address on the importance of events like Convergence in helping students' achieve a global perspective in this highly interconnected world. He talked about Jio Institutes' vision is to build a holistic academic and industrial community in the fields of AI, Data Science, Digital Marketing & Sports Management with our one-year, full-time, residential postgraduate programmes in Artificial Intelligence & Data Science, Digital Media & Marketing Communications and Sports Management.

Dr. Yonggang Wen, President's Chair in Computer Science and Engineering at Nanyang Technological University (NTU) with expertise in AI and data science discussed the evolving skills shaping the global workforce. He emphasized the importance of learning programming languages and addressed challenges in big data consumption, highlighting a critical shift in data ethics. He commented on the importance of technological advancements to boost national and global economies, "For every 1% increase in the National Computing Power, there is a 3.3% growth in the economy, and 1.8% growth in the GDP", underscoring the massive impact that technology entails on the economy.

Bjoern Kroog, Head of Product Management for Advanced Analytical Products at GfK (a Neilsen IQ Company) highlighted the transformative impact of technological shifts in marketing. He highlighted the fusion of technical prowess and storytelling finesse in the digital era. Contrasting past struggles with contemporary opportunities, he showcased the effectiveness of social media, direct media, and sports marketing in reaching target audiences. Using iconic campaigns as examples, Mr. Kroog emphasized that technical excellence needs compelling narratives in building a brand success story.

Unmish Parthasarathi, Founder and Executive Director of Picture Board Partners, a seasoned professional in sports management and marketing, reflected on the evolution of sports over the past 70 years. He emphasized the seismic shift in the industry's economics and the complexities arising from diverse languages, payment methods, and currencies. Mr. Parthasarathi offers a nuanced view of the dynamic interplay of technology, data, and societal shifts in the world of sports interactions.

The panelists collectively offered valuable insights into the future of various industries, from technology, data science, marketing and sports management, providing a comprehensive guide for career prospects and trends.

The event marked the culmination of the two-week long 'Study Abroad module' at Nanyang Technological University, Singapore. The module is a key component of the curriculum for all Jio Institute's postgraduate programme, where every student visits a partner international university and undergoes academic and practical training that provides them an opportunity to understand the global business environment and address real-world problems.

Convergence 2023 has not only served as a platform for collaboration and innovation but has also strengthened relations between India and Singapore. The event's diverse spectrum of participants and discussions has contributed to fostering stronger ties and increased understanding between the technological experts of the two nations, marking a significant milestone in cooperation in the fields of technology, marketing, and sports management.