Laboratories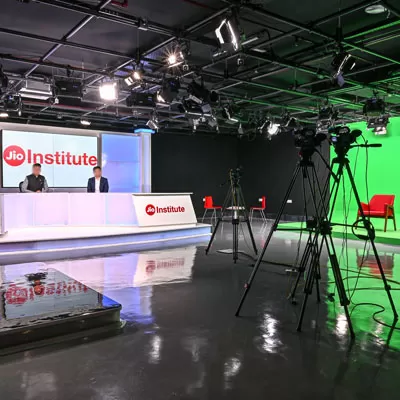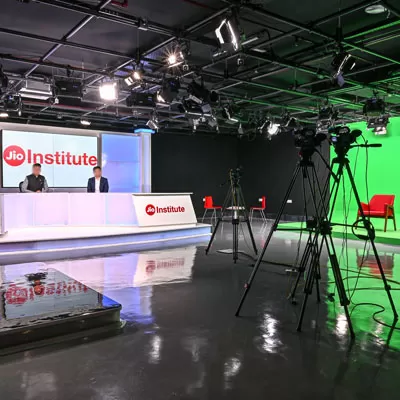 Robotics Lab
This lab provides a practical introduction to all aspects of robotics – electrical, sensor, microcontroller and artificial intelligence. Students can build robots that can be programmed to do, then programmed to think, and finally programmed to learn the way humans do.

AR/VR (Augmented Reality/ Virtual Reality) Lab
This lab particularly focuses on interaction technologies including virtual, augmented and mixed reality as well as mobile computing, epigenetic and evolutionary robotics, and haptic communication.

Computer Vision Lab
This lab provides exposure to students to the complexity, breadth, and depth of how vision works and how to make machines 'see the way humans do' in different areas including healthcare, agriculture, retail, autonomous vehicles, drones, manufacturing, security, traffic management, remote sensing, defense applications, and so on.

Media Studio
Media Studio is designed with state of the art equipment used in newsrooms for students to gain extensive practice in the technology and process of content creation. Students will get hands-on training in the audio, video, and social construction of media and the associated best practices in audience research.

Production Control Lab
Production Control Lab will complement the media studio to mimic the environment and technological standards of the live creation of digital media and longer feature programming. Students will become skilled at lighting design, reading from a teleprompter, managing multiple audio and video inputs, in-ear communication and monitoring, robotic and person-operated cameras, pacing and voice, and collaborative construction of media at this lab.

Audio Editing Bay
Audio Editing Bay comprises acoustically treated rooms that will be equipped with sound-mixing consoles, associated software, surround sound, and amplification. These rooms will allow students to record and edit podcasts, and voice-overs for films and AR/VR applications.

VO Foley Room
VO Foley Room will allow students to reproduce everyday sound effects in a quiet, sound-isolated space. These sounds will serve to enhance the storytelling during the post-production process for feature- length audio stories, documentaries, and AR/VR applications.

Video Editing Bay
Video Editing Bay includes state-of-the-art audio equipment and is also be outfitted for HD, Ultra-HD, and 4K video editing including Adobe Creative Suite software, a playback interface, a color console, and a professional reference monitor. In these rooms, students will be able to refine and edit video shorts, news pieces, feature-length stories, documentaries, and AR/VR content.