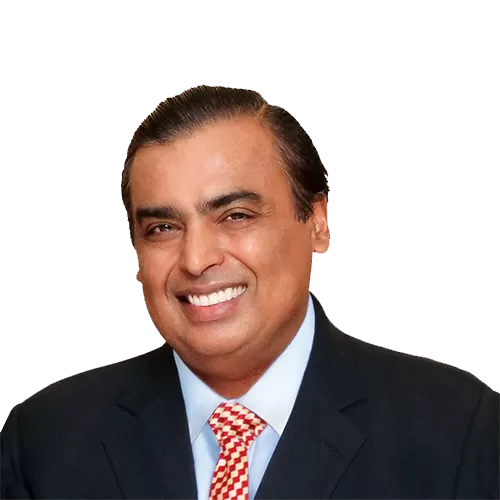 FOUNDER

Shri Mukesh Ambani
Chairman and Managing Director, Reliance Industries Limited
Shri Mukesh Ambani is a globally renowned Indian business magnate and the Chairman & Managing Director of Reliance Industries Limited (RIL), Fortune Global 500® company, and India's largest private-sector corporation.
Shri Mukesh Ambani has been a pioneer in setting up and successfully running the operations of Reliance Industries across Refining & Marketing, Petrochemicals, Oil & Gas Exploration and Production, Retail, Digital Services, Media & Entertainment, and more, which have not only been game-changers in their industries but have also contributed significant assets to the collective societal value of India and its people.
Shri Mukesh Ambani is a chemical engineer from the Institute of Chemical Technology, Mumbai (formerly known as the University Department of Chemical Technology, University of Mumbai). He pursued an MBA from Stanford University, USA.
Contributions and Achievements in the fields of Business and Entrepreneurship
Shri Mukesh Ambani has been on the Board of RIL since 1977. He has a track record of setting up and rapidly scaling new successful businesses of national importance. He initiated RIL's backward integration journey from textiles into polyester fibres and further into petrochemicals, petroleum refining, and then going upstream into oil and gas exploration and production. He set up multiple new world-class manufacturing plants involving diverse technologies that have raised RIL's petrochemicals manufacturing capacities from less than a million tonnes to about twenty-one million tonnes per year.
In the late nineties, Shri Mukesh Ambani led the construction of the world's largest grassroots petroleum refinery at Jamnagar in India, with a capacity of 660,000 barrels per day (33 million tonnes per year) integrated with petrochemicals, power generation, port and related infrastructure. Further, he steered the expansion of the complex to an additional capacity of 580,000 barrels per day. With an aggregate refining capacity of 1.24 million barrels of oil per day at any single location in the world, Jamnagar became the "Refining Hub of the World' and put India on the global energy and refining map.
In the mid-2000s, Shri Mukesh Ambani led RIL's foray into organised Retail with a pan-India Retail network of multiple formats and consumption buckets, spanning groceries, lifestyle, electronics, jewellery, and more, including setting up a nationwide supply chain infrastructure. Today, Reliance Retail is the largest retailer in the country, with more than 12,800 stores across India, and with a robust omni-channel presence. Reliance is also the partner of choice for luxury brands in India.
In 2016, Shri Mukesh Ambani radically disrupted the Indian telecom landscape and triggered a massive digital revolution in India with the launch of Jio. He led and established one of the most complex, greenfield 4G VoLTE services networks in the world, offering high-speed broadband connectivity and end-to-end digital solutions across key domains of national interest, such as education, healthcare, security, financial services, government, citizen interfaces, and entertainment. Jio catapulted India from 155th in mobile broadband data consumption to the world's No. 1 in only a year since launch. Today, Jio is India's largest telecom services provider with more than 440 million subscribers.
Awards and Recognitions
Shri Mukesh Ambani's achievements have been acknowledged at several national and international levels. Over the years, some of the awards and recognition bestowed upon him are:
In 2021, Shri Mukesh Ambani was ranked among the

Top 5 World's Most Famous, Most Reputable CEOs

in the global Brand Guardianship Index 2021 by Brand Finance.
He was felicitated with the

Iconic Business Leader of the Decade Award,

CNBC-TV18 India Business Leaders Awards in 2020.
Mukesh Ambani was featured on India Today's

'Power List 2020'.

He was featured on the list of the

TIME 100 Most Influential People 2019.

In 2019, he was on the list of

Foreign Policy's Top 100 Global Thinkers.

He was on Fortune's

World's 50 Greatest Leaders 2018.

In 2017, he was awarded Economic Times

Business Leader of the Year

The only Indian to be featured on

Forbes Global Game Changers List for 2017

Conferred Doctor of Philosophy (Honoris Causa) by Indian Institute of Technology, Roorkee in September 2016.
Awarded

Othmer Gold Medal for Entrepreneurial Leadership

by The Chemical Heritage Foundation (CHF), Philadelphia, USA in May 2016
Conferred an honorary

Doctor of Science

by Institute of Chemical Technology (ICT), Mumbai in February 2015
NDTV honoured him as one of the

25 Greatest Global Living Legends

in 2013
Awarded as

'Global Challenger'

by Boston Consulting Group in 2013
In 2011, he was featured in the list of

TIME 100 Most Influential People in the World

In 2010, awarded the

Dean's Medal by University of Pennsylvania

Dean of the School of Engineering and Applied Science for his leadership in the application of Engineering and Technology.
Key positions held
Shri Mukesh Ambani is a member of the Prime Minister's Council on Trade and Industry, Government of India and Board of Governors of the National Council of Applied Economic Research.
He is a Board member of the Interpol Foundation and a Member of The Foundation Board of the World Economic Forum (WEF).
Shri Mukesh Ambani is a member of the Indo-US CEOs Forum, Chair of The British Asian Trust's India Advisory Council, International Advisory Council of The Brookings, McKinsey & Company International Advisory Council, Global Advisory Council of Bank of America, Member of The Business Council and London School of Economics' India Advisory Group.
Shri Mukesh Ambani was elected as a Foreign Member of the prestigious United States National Academy of Engineering. Only 9 other Indians have ever received this prestigious honour.
Shri Mukesh Ambani has been awarded an Honorary Fellowship by IChemE (The Institution of Chemical Engineers - the International Professional body for Chemical, Biochemical and Process Engineers).
He is the President and Chairman of the Board, Pandit Deendayal Energy University, Gandhinagar, India.