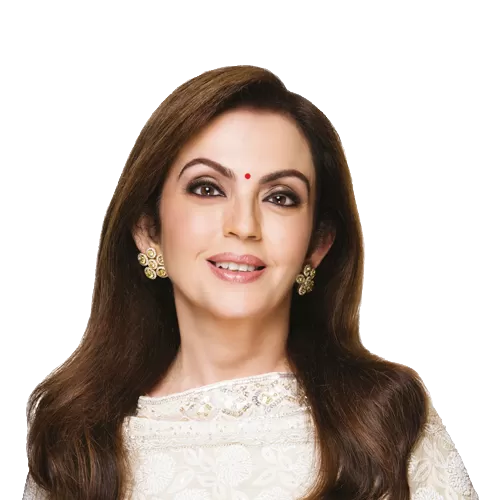 FOUNDER

Smt. Nita Ambani
Founder Chairperson, Reliance Foundation Institution of Education and Research
Smt. Nita Ambani is an educationist, philanthropist, businesswoman, patron of arts, champion of women and children's rights, and a noted proponent of sports.
Smt. Ambani is the Founder & Chairperson of Reliance Foundation, Board Member of Reliance Industries Ltd and of EIH Ltd (The Oberoi Group). She is the first Indian woman to be elected as a Member of the International Olympic Committee, and the first Indian to be on the Board of Trustees of the Metropolitan Museum of Art, New York.
Under Smt. Ambani's leadership, Reliance Foundation has touched the lives of over 56.5 million Indians in areas of rural transformation, healthcare, education, sports, disaster response, arts, culture and heritage, and urban renewal. Reliance Foundation led from the front in supporting India's fight against the COVID-19 pandemic.
A strong believer in the incredible power of women, Smt. Ambani has always placed women at the heart of all her work. Through the various initiatives of the Foundation, Smt. Ambani seeks to empower women in India with resources and opportunities. On International Women's Day 2021, she launched an inclusive, collaborative, diverse, interactive, and socially-conscious digital movement for women called Her Circle.
Known as the First Lady of Indian sport, Smt. Ambani is the owner of Mumbai Indians, the most successful cricket team in the Indian Premier League. She is the Founder Chairperson of Football Sports Development Limited, which launched the Indian Super League, revolutionizing football in India. Through her visionary Education and Sports for All initiative, over 21.5 million children have experienced the transformational power of multiple sports like cricket, football, athletics, basketball, weightlifting, archery, badminton, etc. She is the first Indian woman to be elected as a member of the International Olympics Committee. Smt. Ambani is committed to seeing India become a global sporting powerhouse and a truly multi-sport nation. It is her dream to bring the Olympic Movement and Games to India.
Through Sir H. N. Reliance Foundation Hospital and Research Centre, a state-of-the-art multi-specialty hospital in Mumbai, Smt. Ambani is committed to making affordable world-class medical care available to all Indians. The Hospital was at the forefront of India's response to the COVID-19 pandemic, set up the first dedicated COVID hospital in Mumbai, and provided quality medical care to thousands of patients. Smt. Ambani is also an Advisory Board Member of the Massachusetts General Hospital Center for Global Health.
Trained in Bharatanatyam, a form of Indian Classical dance, Smt. Ambani is a patron of arts and is dedicated to preserving and promoting India's art, culture, and heritage. It is her mission to give Indian art a global platform and bring the best of international art to India. She is the first Indian to be elected as Honorary Trustee of the Board of The Metropolitan Museum of Art, New York. With her new project, the Jio World Centre in Mumbai, Smt. Ambani endeavors to make art accessible to all Indians by creating a space that inspires future generations and enriches the lives of people through art and culture.
In 2020, US magazine Town and Country recognized Smt. Ambani as one of the world's top philanthropists, Fortune India ranked her as India's Most Powerful Woman and Business Today featured her as one of India's most powerful women. Smt. Ambani was awarded the "Best Corporate Promoter of Indian Sports" by the Times of India in 2019 and 2018. She received the prestigious "Rashtriya Khel Protsahan Award" from the President of India in 2017, for the outstanding work of Reliance Foundation in sports for development.