Library and Information Science
International Workshop on Digital Research Libraries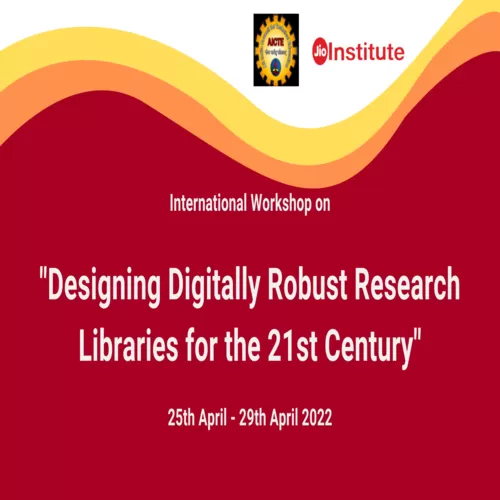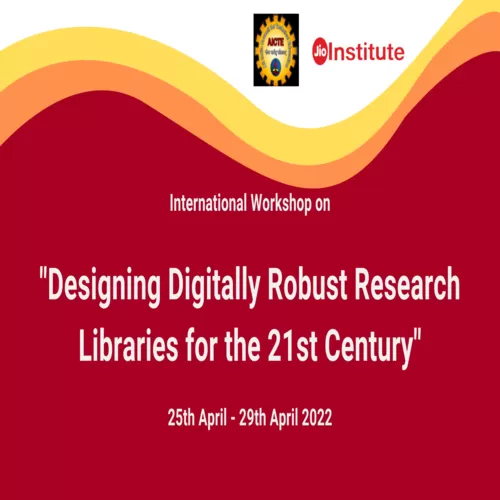 25 Apr 2022 - 29 Apr 2022 14:30 - 20:30 (IST)
{ "name":"International Workshop on Digital Research Libraries", "startDate":"01-14-2022", "endDate":"01-18-2022", "startTime":"10:15", "endTime":"23:30", "description":"International Workshop on Digital Research Libraries", "options":[ "Apple", "Google", "iCal", "Microsoft365", "Outlook.com", "Yahoo" ], "trigger":"click", "custom_date":"04-25-2022 / 04-29-2022", "custom_time":"14:30 - 20:30", "timeZone":"Asia/Kolkata" }
Speakers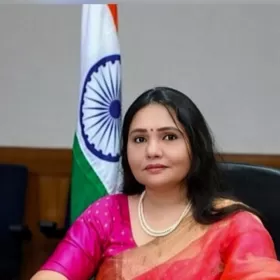 Dr. Mamta Rani Agarwal
Advisor, AICTE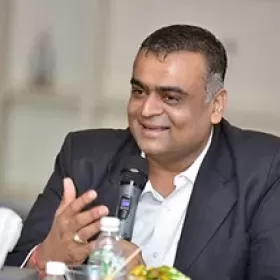 Dr. Palak Sheth
Project Director, Jio Institute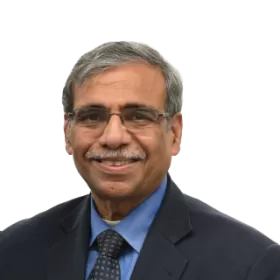 Dr. Dipak Jain
Former Dean, Kellogg School of Management, USA | Former Dean, INSEAD, France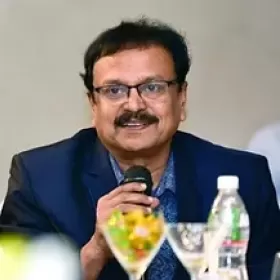 Dr. M.G Sreekumar
Director Libraries, Jio Institute | Former Chief Librarian & Adjunct Professor, IIM-Kozhikode (IIMK)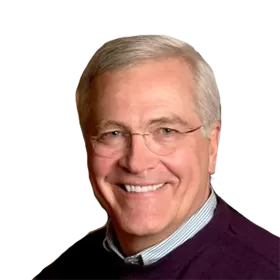 Dr. Michael Keller
Chief Advisor, Jio Institute Digital Library | Vice Provost and Ida M. Green University Librarian, Director of Academic Information Resources, Stanford University, USA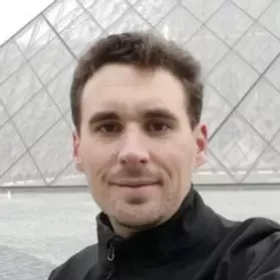 Tom Cramer
Associate University Librarian, Director of Digital Library Systems and Services & Chief Technology Strategist, Stanford Libraries, USA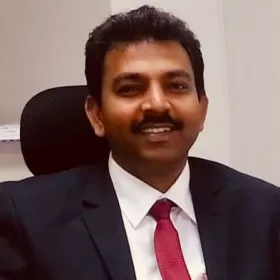 Dr. Manuelraj Peter
Associate Director for public services, General Admin and Collection Development, Jio Institute Library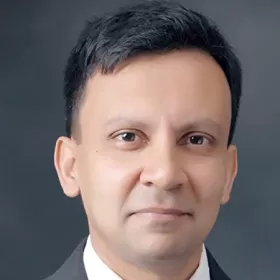 Mr. Savitra Sirohi
Head of Technology Implementation, Jio Institute Digital Library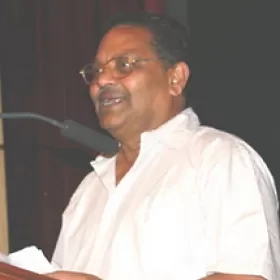 Dr. A.R.D. Prasad
Visiting Faculty, DRTC (ISI), Bangalore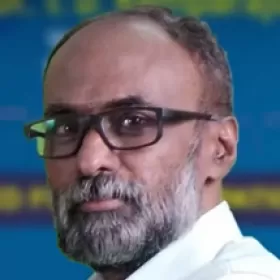 Dr. Anand Byrappa
Head Librarian and Chief of Data, IISC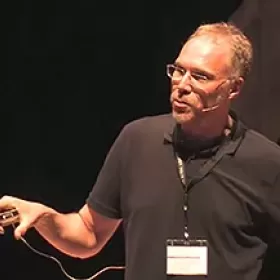 Sebastian Hammer
Co-founder and President, Index Data, USA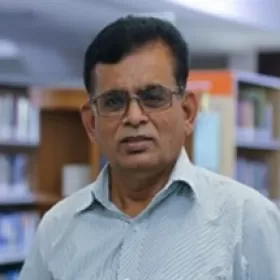 Dr. T. S. Kumbar
Chief Librarian, IIT Gandhinagar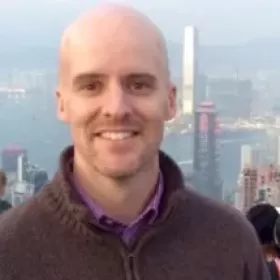 Mike MacKinnon
Director of SaaS & Partner Management, Asia & Oceania, EBSCO Information Services, USA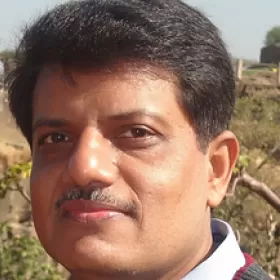 Dr. Akhtar Parvez
University Librarian, Maulana Azad National Urdu University, Hyderabad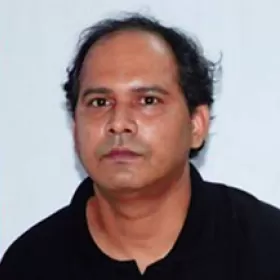 Prof. Parthasarathi Mukhopadhyay
Professor of Library & Information Science, Kalyani University
Introduction
As we hope to enter the endemic of the COVID-19 saga, it is time to take stock of the situation across sectors, tackle challenges and maximize opportunities. For libraries to navigate this landscape, we need to embrace means and avenues of entrepreneurship to ensure relevance in the new normal. The increased focus on e-learning has had a strong bearing on libraries to be able to provide large amount of e-Resources, coupled with cutting edge digital services towards meeting the demands of teaching-learning. In other words, the pace and efficacy of digital transformation will shape the future of our libraries.
Today, the world is witnessing a paradigm shift in terms of how information and knowledge is generated, stored, accessed and disseminated. With the advent of digital technologies, libraries are reinventing themselves to evolve, adapt and thrive. Thankfully, both libraries and users are beneficiaries of this change. As a nation, we need to take cognizance of these developments and leverage the enormous opportunities offered by the digital era.
Librarianship therefore must reposition itself to achieve excellence. We need to focus on innovative content acquisition models, out of the box thinking in extending library services, leveraging technologies, and explore new modes of reaching the user community.
Given this backdrop, the Jio Institute and AICTE are jointly organizing a 5-Day International Workshop on 'Designing Digitally Robust Research Libraries for the 21st Century' during 25-29 April 2022, for the benefit of Indian Library professionals, drawn from the technical institutions, universities, and other academic/research institutions.
Scope of the Workshop and Expected Outcome
The programme is targeted at librarians, information professionals, library/information technology academics and to those involved in such aspects of digital information/assets management as infrastructure; information services; learning-teaching support; research support; metadata; content management; preservation; system design; implementation; interface design; human-computer interaction; collection development; intellectual property; privacy; electronic publishing; document genres; multimedia and associated applications/theoretical topics.
Programme Focus
• Bringing latest technology applications, best practices for enablement with respect to enduring user experience, empowered teaching-learning and enhanced research outcome.
• Imparting knowledge and skills (conceptual as well as technical components) that the information/knowledge professionals need to position themselves at the cutting edge of technology and the profession.
• Other takeaways from the workshop will be participants' opportunity to witness the experts' success stories, case studies, and innovative research outcomes that is brought to a common platform.
Agenda
Inauguration Session & Keynote Address
25 Apr 2022 - 25 Apr 2022 16:00 - 16:40
Future of Digital Libraries: Case Study of Stanford University
25 Apr 2022 - 25 Apr 2022 16:40 - 17:15
Conceptualizing & Designing 21st Century Research Libraries
25 Apr 2022 - 25 Apr 2022 17:15 - 18:00
Architecting Future Proof Technologies for Libraries for the 21st Century
25 Apr 2022 - 25 Apr 2022 18:45 - 19:30
Smart Cataloguing and Subject Indexing using Advanced Tools and Applications
26 Apr 2022 - 26 Apr 2022 17:00 - 17:45
JDL Technology Stack Implementation – Case Study (Blacklight/Spotlight/Quicksearch, Hyku, FOLIO and EDS)
26 Apr 2022 - 26 Apr 2022 18:45 - 19:30
Open Data Management: Role of Librarians
27 Apr 2022 - 27 Apr 2022 16:15 - 17:00
E-Book Collection Development: A Case Study of IISc., Bangalore
27 Apr 2022 - 27 Apr 2022 17:00 - 17:45
ILS Implementation – Folio: "The Future of Libraries is Open"
27 Apr 2022 - 27 Apr 2022 18:45 - 19:30
E-Resource Management: An Overview (A Case Study of IIT Gandhinagar)
28 Apr 2022 - 28 Apr 2022 17:00 - 17:45
Modern Discovery and Authentication with EBSCO | OpenAthens
28 Apr 2022 - 28 Apr 2022 18:45 - 19:30
Digital Content Creation, Technologies, Copyright, Licensing and Right Management
29 Apr 2022 - 29 Apr 2022 17:00 - 17:45
Telling a story through Digital Archive: Integration of Galleries, Libraries, Archives and Museums (GLAM)
29 Apr 2022 - 29 Apr 2022 18:45 - 19:30
Debrief / Closing Remarks
29 Apr 2022 - 29 Apr 2022 20:15 - 21:00