Digital Media & Marketing Communications
How is Digital Transformation Changing Marketing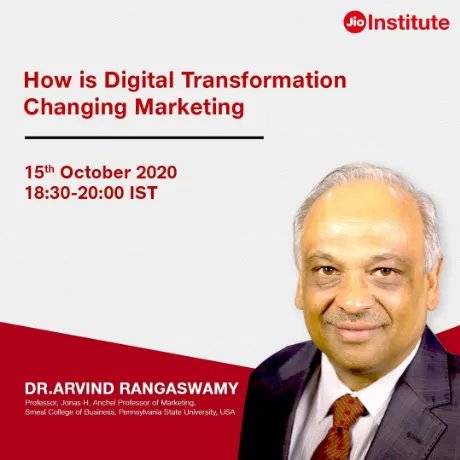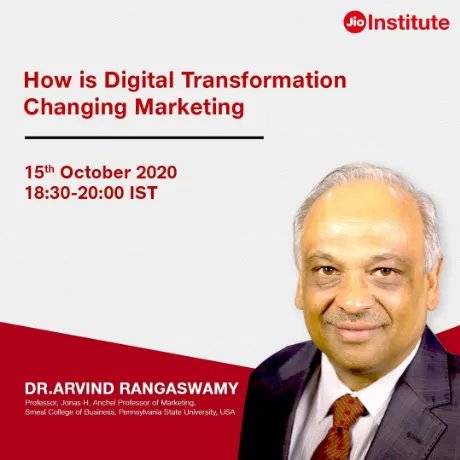 15 Oct 2020 18:30 - 20:00 (IST)
{ "name":"How is Digital Transformation Changing Marketing", "startDate":"01-14-2022", "endDate":"01-18-2022", "startTime":"10:15", "endTime":"23:30", "description":"How is Digital Transformation Changing Marketing", "options":[ "Apple", "Google", "iCal", "Microsoft365", "Outlook.com", "Yahoo" ], "trigger":"click", "custom_date":"10-15-2020 / 10-15-2020", "custom_time":"18:30 - 20:00", "timeZone":"Asia/Kolkata" }
Speakers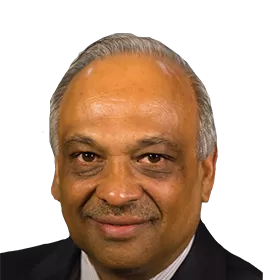 Dr. Arvind Rangaswamy
University Distinguished Professor of Marketing,  Pennsylvania State University, USA 
Introduction
Adopting and adapting to digital is more than an afterthought today. Given today's dynamic economic and industrial needs, it has become imperative for individuals to use new technologies and methods to continually evaluate, innovate and redefine processes that lead to Digital Transformation.
Digital Transformation provides the opportunity for Businesses to transform themselves by leveraging existing and emerging digital technologies such as big data (including text, audio, and video), Internet of Things (IoT), machine learning, and voice search. Digital transformation changes the business through digital content, business strategy, effective structures, talent development and industry engagement.
Using digital channels, organizations can optimize their business operations to drive agility, employee performance and provide a competitive advantage while reducing costs. The goal of digital transformation for marketing is to enable and highlight frameworks to help with reduction in expenditure and enhance customer experience.
The COVID-19 pandemic has added on an extra sense of urgency as business leaders grapple with how best to adapt and lead in this environment -- by developing new business models (e.g., subscription services), new forms of organization (e.g., digital business platforms), and new leadership mindsets.
As part of Jio Institute's upcoming programme on Digital Media and Marketing Communications, we would like to invite you to an interactive and informative masterclass on:
How is Digital Transformation Changing Marketing by Dr. Arvind Rangaswamy.
In his presentation, Dr. Arvind Rangaswamy will provide an overview of the digital transformations that have brought us to where we are today.
The session will also highlight the digital technologies that will shape the marketing landscape over the next few years including research-based insights that will enable marketers to think through the next phases of implementing digital transformation in their organizations.
What Will You Learn?
The masterclass will allow attendees to understand:
Key Concepts of How to Transform and Leverage Existing Digital Technologies in Marketing.
Digital Transformation Technologies and Future Trends
Frameworks for Value Creation and Innovation
How Digital Transformation is Changing the Current Marketing Landscape.
Much more..
Who Should Attend?
Students looking to accelerate their careers in Digital Marketing and Marketing Communications
Anyone looking to understand more about digital transformation and its future implications.
Anyone wanting to transition into working in digital transformation
Established digital professionals who want to advance their skillset
Consultants looking to broaden their set of consulting expertise in digital technologies.