Digital Media & Marketing Communications
Mastering Data-Driven Marketing & Communication in the Post-COVID World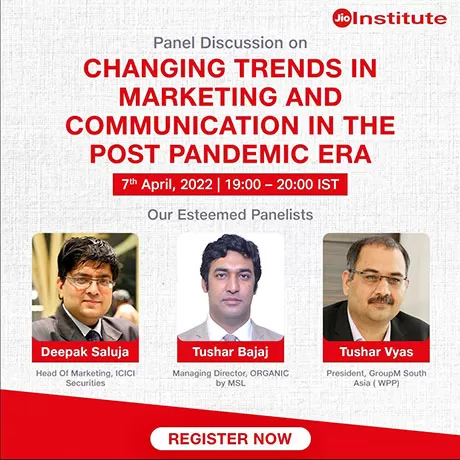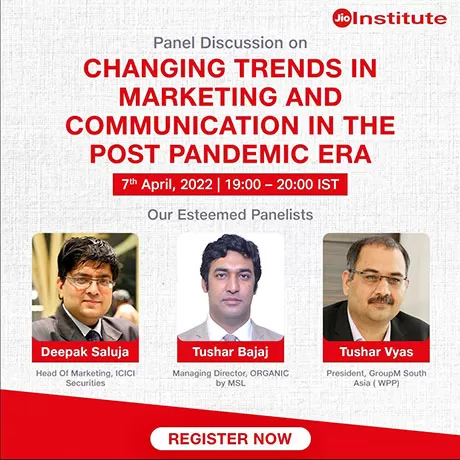 07 Apr 2022 19:00 - 20:00 (IST)
{ "name":"Mastering Data-Driven Marketing & Communication in the Post-COVID World", "startDate":"01-14-2022", "endDate":"01-18-2022", "startTime":"10:15", "endTime":"23:30", "description":"Mastering Data-Driven Marketing & Communication in the Post-COVID World", "options":[ "Apple", "Google", "iCal", "Microsoft365", "Outlook.com", "Yahoo" ], "trigger":"click", "custom_date":"04-07-2022 / 04-07-2022", "custom_time":"19:00 - 20:00", "timeZone":"Asia/Kolkata" }
Speakers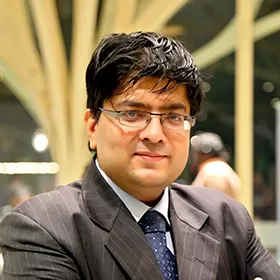 Deepak Saluja
Head Of Marketing, ICICI Securities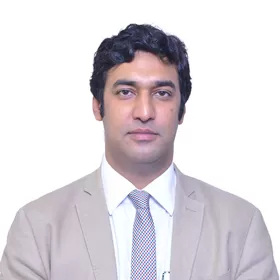 Tushar Bajaj
Managing Director, ORGANIC by MSL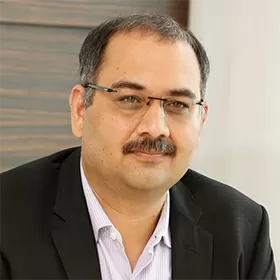 Tushar Vyas
President, GroupM South Asia ( WPP)
Introduction
Traditionally, marketing has largely been about buying mass reach at the best rates in media and hoping to convert it at the point of sale through offers, and other levers at one's disposal. With the proliferation of social media, internet and smartphones, we've seen a gradual rise in the importance of reaching customers over digital platforms.
The tipping point however came with the onset of the Covid-19 pandemic. With consumers confined to their homes, marketers were overnight compelled to look at a digital first strategy. The Corona crisis has reinforced what we have known for some time now: that brands must interact with customers in very local and precise terms. This has, in turn, changed consumer expectations as well. Though life as we know is veering back to normalcy, the advantages of a Digital first approach are now appreciated by consumers and businesses alike, and digital adoption will only accelerate from here on.
In this session, we learn from industry leaders on where marketing is headed, how content & communication are becoming data & analytics driven, and how organizations are adapting to the new normal. Our thought leaders will also throw light on the skills that are important for a successful marketing career in the present and in future.
What Will You Learn?
The classical marketing drivers behind the transition to digital
How the pandemic has disruptively accelerated this trend?
Changes in storytelling with changing elements in the 4Ps (Product, Pricing, Promotion, Placement)
The importance of data and analytics in new age marketing
The skills needed to thrive as a marketer in today's world
Who Should Attend?
Media & Entertainment Professionals
Advertising Professionals
New Age Digital Marketers
Consumer insights Professionals
Marketing Communications Enthusiasts
Digital Media & Technology Consultants