Faculty and Research
Dr G. Ravichandran: Jio Institute's New-age Celebral Mentor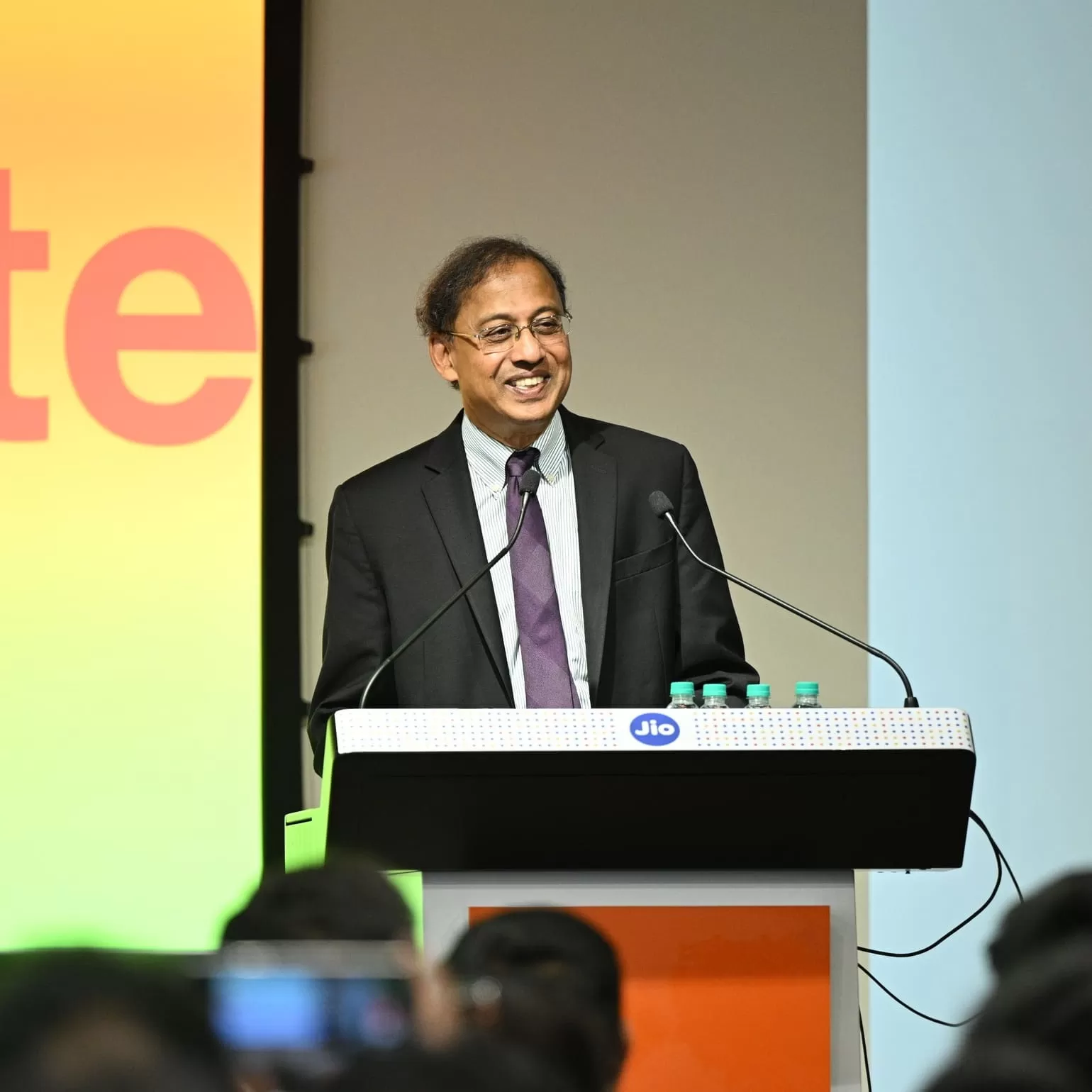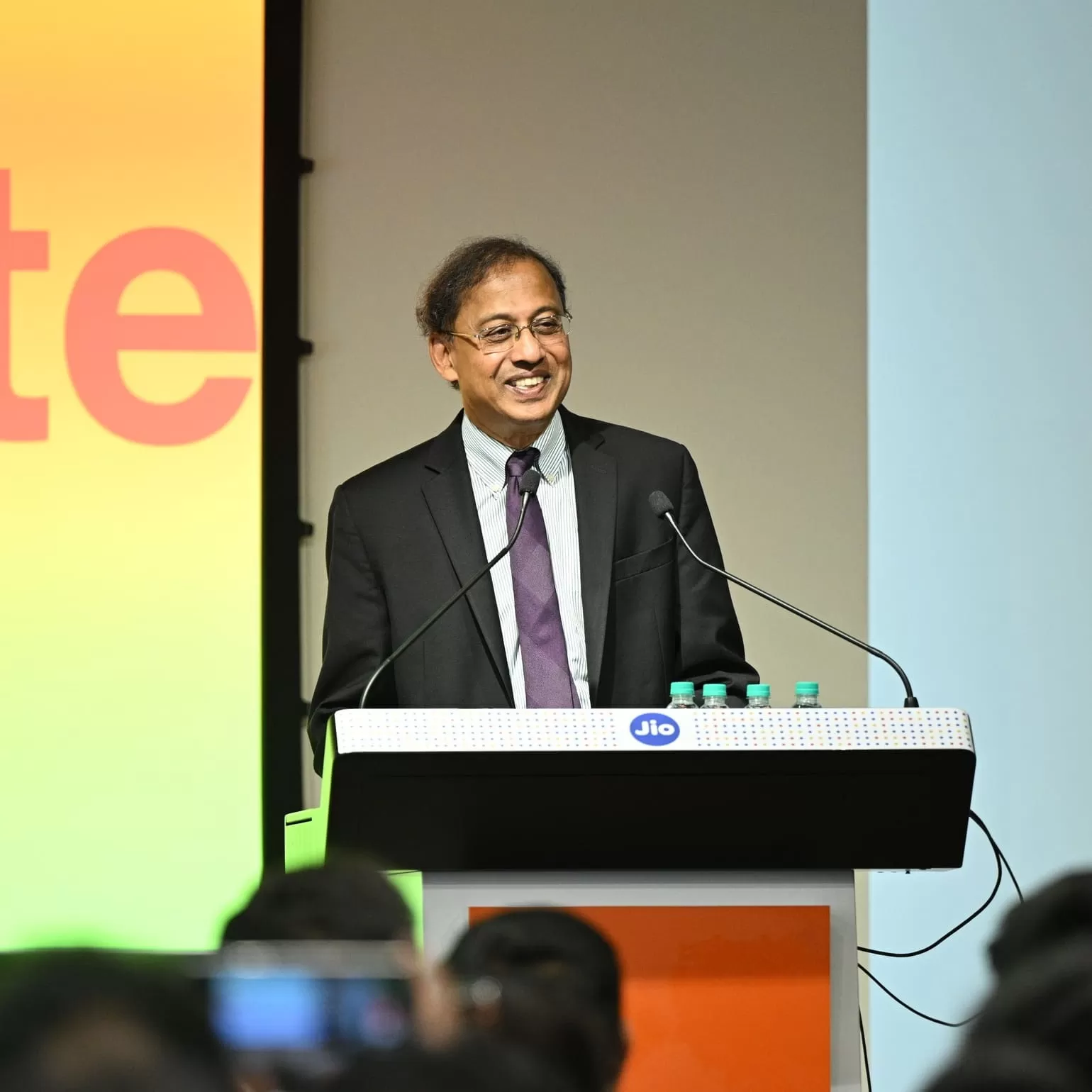 Dr G. Ravichandran, Provost, Jio Institute, comes from an illustrious academic background. He received his PhD and masters in engineering from Brown University, USA, and a BE (honours) in mechanical engineering from Madras University. Dr Ravichandran taught at the California Institute of Technology for more than three decades and served as the Otis Booth Leadership Chair of the Division of Engineering and Applied Science from 2015 to 2021. He also served as the director of the Graduate Aerospace Laboratories (GALCIT) from 2009 to 2015.
One can only imagine how an institute led by such an intellectual mind would be!
According to Dr Ravichandran, "The vision of Jio Institute is to be a global hub of knowledge by nurturing local talent that would bring about positive change in society." The innovative thinker in him has questioned the traditional method of passing on education from teacher to student. Dr Ravichandran points out, "The paradigm shift by Jio Institute, which focusses on a research-centric and experiential learning approach, has paid dividends as students are encouraged to think out of the box and tap their latent creativity." This has resulted in the synergy of the traditional and exploratory model of study, where students are encouraged to hone their skills through creative thinking and what they have learnt from their teachers.
At Jio Institute, besides learning in the classroom, students learn from their peers through real-world project-based group learning. Generally, universities start by offering undergraduate programmes and then ramp up to master's and PhD research programmes. Dr Ravichandran says, "The change that Jio Institute has brought is that it began by offering master's and research programmes." It lays the strong foundation of research and nurtures creativity in the student. Students are encouraged to test the limits of their skills and not be averse to taking risks; and as students from various disciplines enrol in courses, their diverse backgrounds provide a fertile ground to develop new interdisciplinary ideas. Qualities like entrepreneurship are encouraged and endorsed, setting the stage for the next generation of leaders and innovators in society.
Jio Institute's interdisciplinary research-driven learning ecosystem ensures the development of essential skills like critical thinking, communication, design thinking and creativity. Needless to say, this focus on the holistic development of students makes the Institute an incubator for leaders of tomorrow. The environment of research at the Institute has attracted researchers, academicians and students from all around the globe. We asked Dr Ravichandran what sets Jio Institute apart from the other universities. He replied, "The environment of Jio Institute—it plays an active part in the creation of a global hub of knowledge where students are provided the intellectual environment to achieve their maximum potential. We encourage them to go beyond their comfort zone to develop an exploratory mindset."
Jio Institute's core educational philosophy lies in academic rigour. The programmes offered are designed to equip students with global academic knowledge through an overseas module at an international partner university. This is coupled with industry-relevant training and research, where each student has the opportunity to learn hands-on from the corporate world through capstone projects and regular interactions with industry stalwarts in the form of guest lectures and masterclasses. This inculcates a practical solution-seeking mindset in the students and develops an approach to seeking solutions to issues faced by the industry, society, and the nation. With their multidisciplinary training and experiential learning, the students of Jio Institute are well-equipped to address emerging trends and future needs of jobs in leading industries.
Placements of students after the completion of their course is another area of commitment for Jio Institute, and the Institute focuses on building lasting relationships with leading companies such as Deloitte, PwC, KPMG, Ernst & Young, L&T, L&T Technology Services, Mahindra & Mahindra, Colgate-Palmolive, Interglobe Enterprises, Piramal Enterprises, IBM, KPIT Technologies.
With a state-of-the-art campus in Navi Mumbai, Jio Institute offers an environment that makes learning a rich and rewarding experience, making it an ideal place for students who seek a well-rounded education.