Executive Education
Effective Communication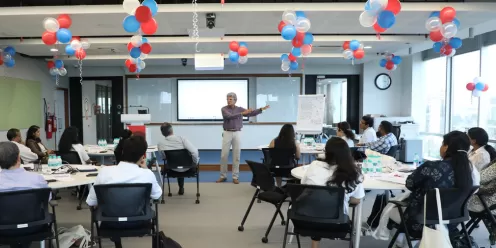 Join Jio Institute's exclusive Executive Education Program, tailor-made for the Office of the Chief of Staff of the Chairperson's Office. Participants from various Units of the Reliance Group will delve into the essentials of Leadership, Effective Communication, and Interpersonal Skills. This unique experiential learning format equipped participants with the tools to communicate effectively with stakeholders, understand diverse leadership styles, and nurture interpersonal relationships crucial for their organizational roles. Discussions centered around the 5 essential traits of Leadership (ISDIS) and a detailed examination of William Reddin's 12 leadership styles with a focus on effectiveness. A second part of the program will soon follow, exploring technology applications in communication and the role of emerging technologies in enhancing organizational efficiency.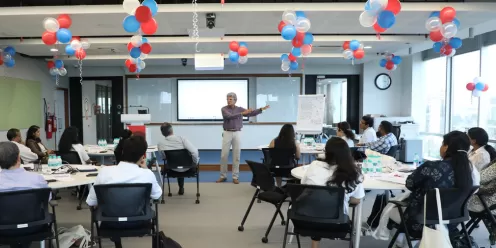 Last Conducted On: 15 Jun 2023 - 17 Jun 2023
Mode: In-person at Ulwe Campus
Upcoming Sessions
To be announced
About Jio Institute
Jio Institute is a multi-disciplinary higher education institute set up as a philanthropic initiative by the Reliance Group. The Institute is dedicated to the pursuit of excellence by bringing together global scholars and thought leaders and providing an enriching student experience through world-class education and a culture of research and innovation. The Institute also aims to create a strong research culture and encourage faculty and students to engage in cutting-edge research that has a real-world impact.
Reliance Industries Limited is a Fortune 500 company and the largest private sector corporation in India.
Reliance Foundation, the philanthropic arm of Reliance Industries Limited, aims to play a catalytic role in addressing India's development challenges through innovative and sustainable solutions. Led by Founder and Chairperson Smt. Nita Ambani, Reliance Foundation is relentlessly working to facilitate transformative changes for the overall well-being and higher quality of life for all. Reliance Foundation is focused on addressing the nation's development challenges in rural transformation, education, health, sports for development, disaster management, women empowerment, urban renewal, and arts, culture and heritage, and has touched the lives of more than 66 million people across India, in more than 54,200 villages and several urban locations.
Program Overview
Engaging discussions will revolve around the five essential traits of Leadership (ISDIS) and a meticulous examination of William Reddin's 12 leadership styles, with a paramount focus on effectiveness. Furthermore, a second part of the program is slated to explore technology applications in communication and the transformative role of emerging technologies in enhancing organizational efficiency. Participants will embrace this unparalleled opportunity to unlock their full leadership potential and excel in the realms of communication and relationship management, setting the stage for a remarkable professional journey.
Learning Goals
Enhance Leadership Proficiency: Participants will develop a deeper understanding of effective leadership principles and styles, enabling them to inspire and lead their teams with confidence and vision. They will cultivate the ability to make strategic decisions, motivate others, and navigate complex challenges in their organizational roles.
Strengthen Effective Communication: Through experiential learning activities and discussions, participants will hone their communication skills, both verbal and written. They will learn to articulate ideas with clarity, actively listen to others, and tailor their communication styles to diverse stakeholders, fostering stronger connections and collaboration.
Foster Interpersonal Relationship Management: Participants will gain insights into the dynamics of interpersonal relationships and acquire techniques to build positive and constructive connections with colleagues, clients, and stakeholders. They will develop empathy, conflict resolution skills, and emotional intelligence, nurturing a cohesive and supportive work environment.
Embrace Technological Advancements: In the upcoming part of the program, participants will explore technology applications in communication and organizational efficiency. They will learn to leverage emerging technologies to streamline processes, boost productivity, and stay ahead in an ever-evolving business landscape.
By achieving these learning goals, participants will be better equipped to navigate the challenges of their roles, lead with impact, and foster an environment of innovation and collaboration within their organizations.
Executive Communication
The curriculum emphasises the importance of effective communication and interpersonal relationships. Participants learned how to communicate more efficiently, inspire others, and build stronger connections with their teams. Developing these skills not only enhanced their leadership capabilities but also fostered a positive and productive work environment.
It provides a comprehensive and immersive experience that empoweres participants to become more effective leaders. By focusing on the ISDIS traits, individual leadership styles, self-awareness, and interpersonal skills, participants gained the tools and knowledge needed to lead with confidence and integrity in any professional setting.

Speakers
Dr. Sunil Unny Guptan
Visiting Faculty, IIM Ahmedabad | Adjunct Professor, IIM Udaipur | Visiting Faculty, ISB Hyderabad
Programme Leadership

Dr. Sunil Unny Guptan
Visiting Faculty, IIM Ahmedabad | Adjunct Professor, IIM Udaipur | Visiting Faculty, ISB Hyderabad