Emerging Paradigms in Material Sciences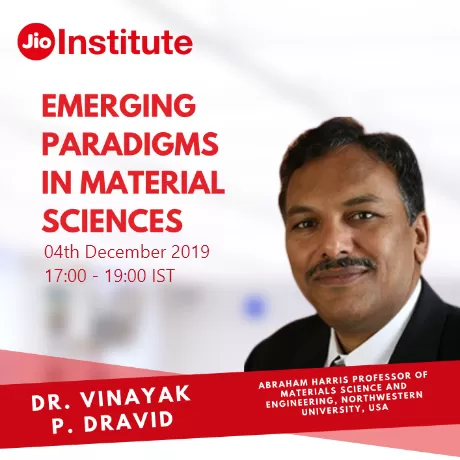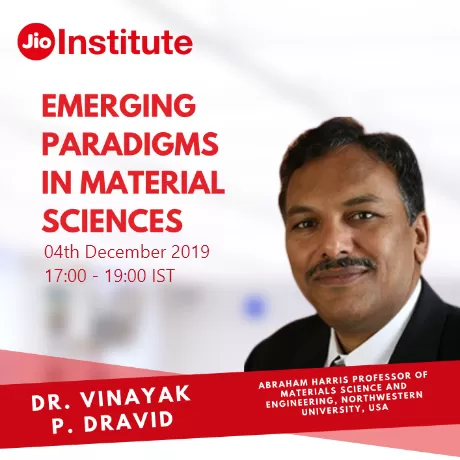 04 Dec 2019 17:00 - 19:00 (IST)
{ "name":"Emerging Paradigms in Material Sciences", "startDate":"01-14-2022", "endDate":"01-18-2022", "startTime":"10:15", "endTime":"23:30", "description":"Emerging Paradigms in Material Sciences", "options":[ "Apple", "Google", "iCal", "Microsoft365", "Outlook.com", "Yahoo" ], "trigger":"click", "custom_date":"12-04-2019 / 12-04-2019", "custom_time":"17:00 - 19:00", "timeZone":"Asia/Kolkata" }
Speakers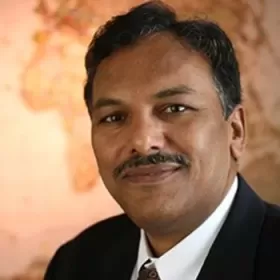 Dr. Vinayak P. Dravid
Abraham Harris Professor of Materials Science and Engineering, Northwestern University, USA
Introduction
As part of his talk, Dr. Dravid outlined the evolution of Materials Science and Engineering in the last few decades, shared experiences from his journey at Northwestern University and highlighted the aspects of local contextualisation, industry and peer connections for designing a suitable Materials Science programme.
He focuses on the following key areas:
Science and Engineering approach: Materials Science and Engineering programme encompasses both Science (research) and Engineering (industry) tracks - both of which are pivotal to its success.
Student intake: In the last few decades, there has been a shift in student intake from only metallurgy graduates earlier to students from across the science spectrum. This has necessitated a need for a cross-disciplinary approach in materials science programmes.
Research Institutions: A significant shift has occurred from the traditional approach of generating and transmitting knowledge to the emerging paradigm of knowledge, analysis, synthesis, creativity and dissemination.
Design Thinking: Successful programmes take cognisance of combining elements of arts with science & engineering resulting in a focus on "Whole brain engineering" leading to design innovation for tackling problems with unclear solutions