Artificial Intelligence & Data Science
Connecting the Dots in Emerging Science, Society and Living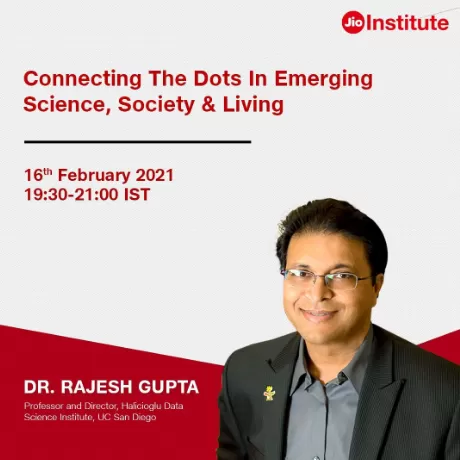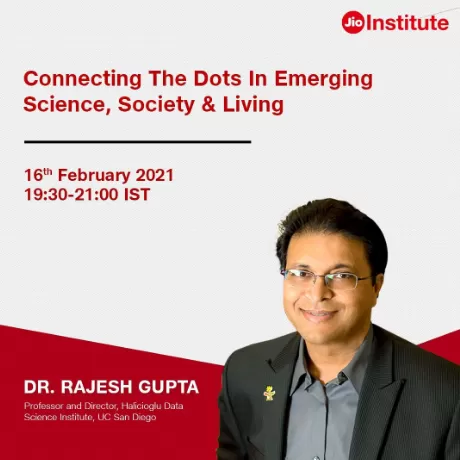 16 Feb 2021 19:30 - 21:00 (IST)
{ "name":"Connecting the Dots in Emerging Science, Society and Living", "startDate":"01-14-2022", "endDate":"01-18-2022", "startTime":"10:15", "endTime":"23:30", "description":"Connecting the Dots in Emerging Science, Society and Living", "options":[ "Apple", "Google", "iCal", "Microsoft365", "Outlook.com", "Yahoo" ], "trigger":"click", "custom_date":"02-16-2021 / 02-16-2021", "custom_time":"19:30 - 21:00", "timeZone":"Asia/Kolkata" }
Speakers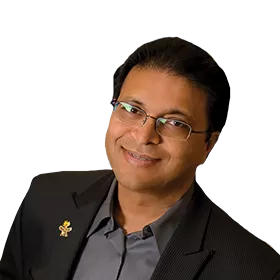 Dr. Rajesh Gupta
Distinguished Professor, Department of Computer Science & Engineering | Director, Halicioglu Data Science Institute, University of California, San Diego, USA
Introduction
Artificial Intelligence and Data Science has the potentiality of assimilating and simulating user preferences and behaviours. Data Science's cognitive propensity is making bots stronger with respect to data. The day is not far when the machines will autonomously read data, solve potential problems, and connect dots between sciences, society, and living.
This masterclass will dwell in the extensive understanding of how to train algorithms and test data, unravel and extrapolate hidden data trends, shape and manipulate data. Comprehending complex and sophisticated statistical data modelling can help the society in informed and data-driven decision making. This masterclass will make you familiar with the new, changing world in connection with emerging scientific trends.
We live in a world of data from twitter feeds to gene sequences affecting pretty much all aspects of our lives. This has got a number of communities excited about possibilities that pervasive data and its use can bring about, leading to a tremendous rise in new programs and institutes in "Data Science". Yet, data has always been with us and has played a central role in scientific discovery. This talk makes the case that there, indeed, are changes brought about by the ubiquity, scale of data and advances in processing of data that enables us to use data in ways not previously imaginable.
As part of Jio Institute's upcoming Masters in Artificial Intelligence and Data Science program, we would like to invite you to an interactive and informative masterclass on
Connecting The Dots In Emerging Science, Society & Living By Dr. Rajesh Gupta
Starting with an introduction of historical perspective, in this masterclass Dr. Rajesh Gupta will walk us through our comprehensibility on the emerging discipline of Data Science and Artificial Intelligence, its constituent subjects, and institutional planning over a period of four years that has led to the establishment of the Data Science Institute at UC San Diego. The talk is as much about the subject area, prospective developments in the area as it is about academic institution building.
What Will You Learn?
How is big data reshaping society?
How are we giving back the value of data to society and how will it foster the society?
How is data drawn today to help make a change in the world we live in?
What are the different constituents of Data Science and the developments made in this realm?
How do people benefit when data science and artificial intelligence work together?
How can we use data science for social good?
And plenty more...
Who Should Attend?
IT professionals
Business Analysts
Data Analytics Consultants
Entrepreneurs & Aspiring Entrepreneurs
Research & Development Professionals
Quantitative analysts
Innovation Enthusiasts
Architect & Design Professionals
Operations Analysts
Project Managers
Marketing Analysts
Logistics Specialists
Anyone curious to learn how big data plays a role in bringing people and businesses ahead