Tech Evolution in the New Normal: Challenges & Opportunities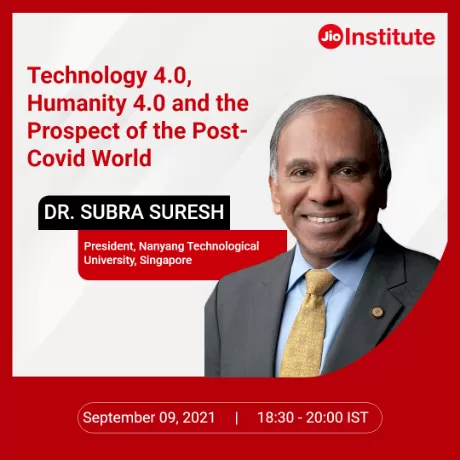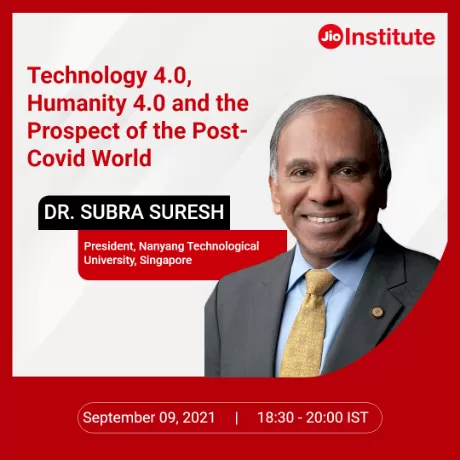 09 Sep 2021 18:30 - 20:00 (IST)
{ "name":"Tech Evolution in the New Normal: Challenges & Opportunities", "startDate":"01-14-2022", "endDate":"01-18-2022", "startTime":"10:15", "endTime":"23:30", "description":"Tech Evolution in the New Normal: Challenges & Opportunities", "options":[ "Apple", "Google", "iCal", "Microsoft365", "Outlook.com", "Yahoo" ], "trigger":"click", "custom_date":"09-09-2021 / 09-09-2021", "custom_time":"18:30 - 20:00", "timeZone":"Asia/Kolkata" }
Speakers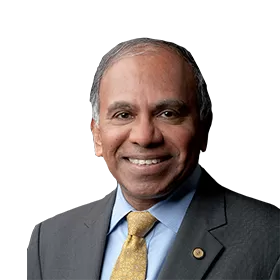 Dr. Subra Suresh
Member, Global Advisory Council, Jio Institute | Former President, Nanyang Technological University | Former President, Carnegie Mellon University | Former Director, U.S. National Science Foundation | Former Dean, Massachusetts Institute of Technology (MIT)
Introduction
As we grapple with the COVID-19 pandemic that has redefined norms across sectors, it is essential to analyze its impact across geographies and sectors.
While the onset of the fourth industrial revolution continues to disrupt the way we work, interact, collaborate, live, and even exist; navigating this new normal in a tech-driven world is both challenging and replete with opportunities.
From the rapid rise of online learning and as well as healthcare mechanisms to managing working from home, technology has come to our rescue and helped navigate this pandemic in innumerable ways.
On the other hand, it has given rise to a more involved debate on data-sharing, privacy, and other dimensions of emerging technologies. In such a scenario, the choice to humans to understand, analyze, and use technology will be critical.
Subjective issues such as compassion, dignity, ethics will assume importance in hitherto unforeseen ways. As we hopefully start contemplating a post-pandemic world, it is important to assess the role of technology in existing systems and in creating more efficient and effective ones.
This webinar will explore this 'new normal' from a technology, societal and humanistic point of view.
What Will You Learn?
Understanding the technology contours in a post COVID-19 world.
Discussing the effects of the pandemic in different sectors and geographies. Maximizing opportunities in a tech-driven ecosystem.
Navigating ethical challenges due to increasing prevalence of emerging technologies.
Exploring Humanity 4.0 with respect to education, equality, environment, and economy.
Role of technology in human decision making
Who Should Attend?
Leaders in Education
Institution builders
Education policy-makers
Faculty members
Students
Research and Development Professionals
Industry Learning and Development Professionals
Ed-tech Professionals