Artificial Intelligence & Data Science
Systems Empowering Humans to Manage Information Better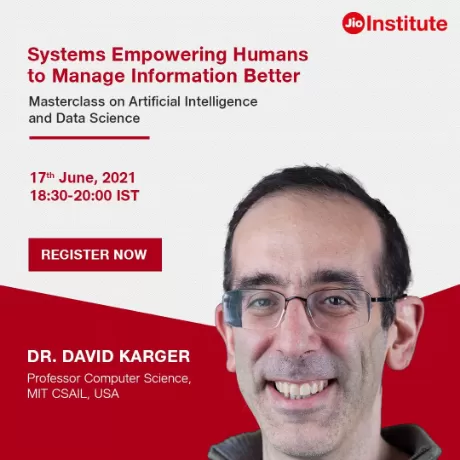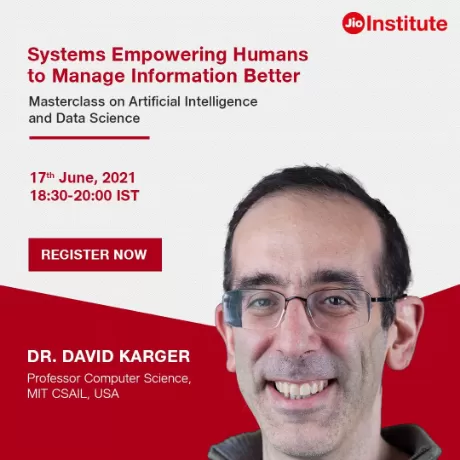 17 Jun 2021 18:30 - 20:00 (IST)
{ "name":"Systems Empowering Humans to Manage Information Better", "startDate":"01-14-2022", "endDate":"01-18-2022", "startTime":"10:15", "endTime":"23:30", "description":"Systems Empowering Humans to Manage Information Better", "options":[ "Apple", "Google", "iCal", "Microsoft365", "Outlook.com", "Yahoo" ], "trigger":"click", "custom_date":"06-17-2021 / 06-17-2021", "custom_time":"18:30 - 20:00", "timeZone":"Asia/Kolkata" }
Speakers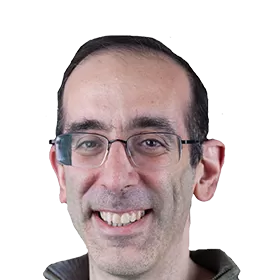 Dr. David Karger
Professor, MIT, USA
Introduction
People are intelligent and creative information managers, but their work can be significantly helped or hindered by the way their applications organize and present information. The masterclass will explore several novel ways to do so effectively.
First, Dr. David Karger will describe two ways to powerfully enrich the structure of online discussion platforms- NB and Wikum. NB is a discussion platform for online learning that structures discussions into the margins of the course content. Wikum is a tool that helps participants collaborate in an online discussion and work together to build a richly structured summary of the discussion's main points.
Turning to structured data management, he will describe Mavo, which empowers non-programmers to author their own specialized information management tools. Mavo lets people make their own creative choices about how information should be structured and presented to best support specific information management tasks.
As part of Jio Institute's upcoming Masters in Artificial Intelligence and Data Science program, we would like to invite you to this interactive and informative masterclass on
Systems Empowering Humans to Manage Information Better By Dr. David Karger
Starting with an introduction to Human Computer Interaction (HCI), Dr. Karger will walk us through the HCI platforms and tools that help seamlessly structure students' discussions. Thus, the masterclass will delve into details of the effective usage of online interaction portals.
Key Learnings
Manage information better in day-to-day work.
Use online discussion platforms effectively.
Make creative choices and structure information.
Better collaborate in online discussions.
Use HCI tools to build a richly structured discussion summary
Use HCI to effectively manage workflow.
Who Should Attend?
IT professionals
Business Analysts
Data Analytics Consultants
Enthusiast Students
Research and Development Professionals
Quantitative analysts
Innovation Enthusiasts
Architect and Design Professionals
Operations Analysts
Project Managers
Marketing Analysts
Logistics Specialists
Anyone curious to learn Human Computer Interaction