Artificial Intelligence & Data Science
A Deep Dive into AI and Data Science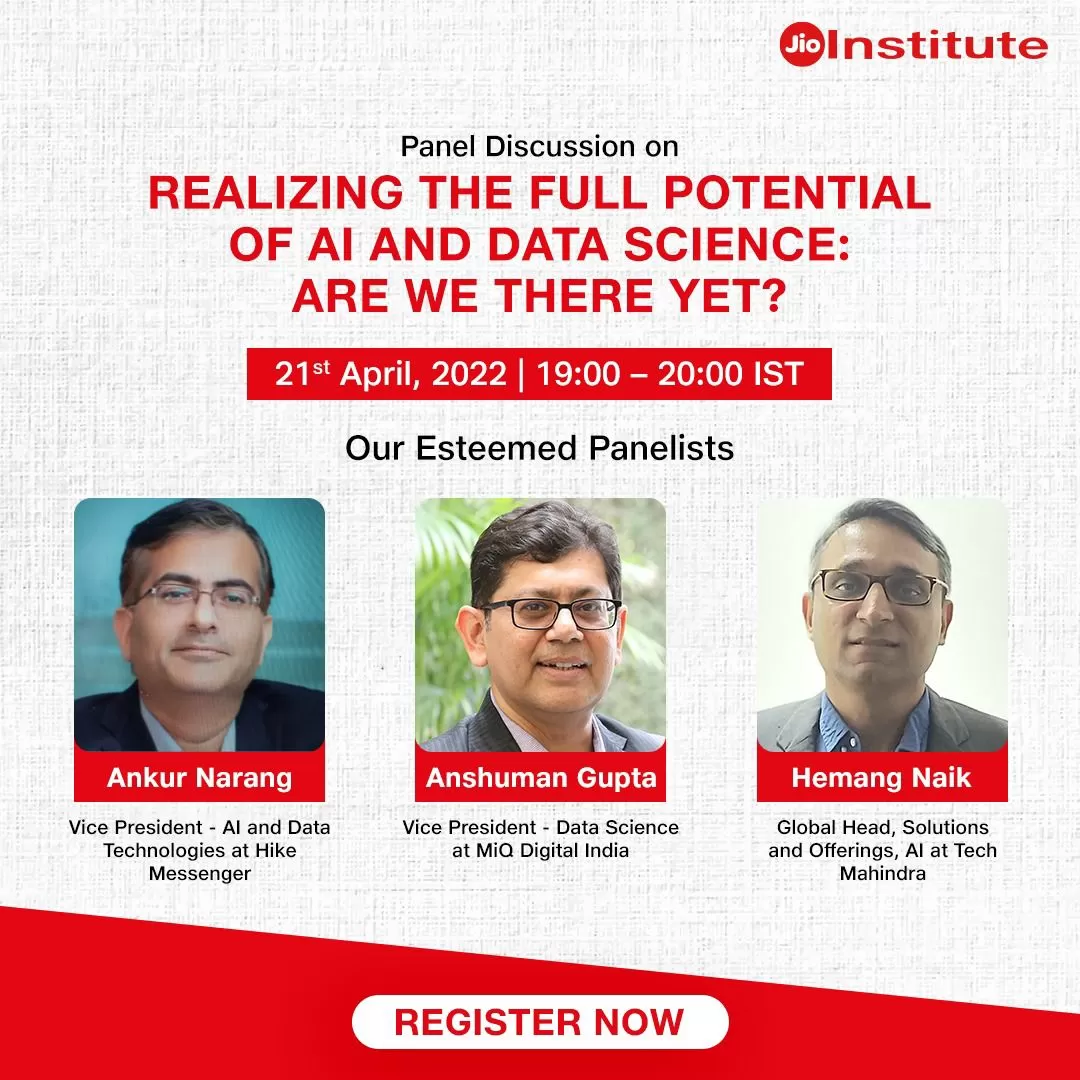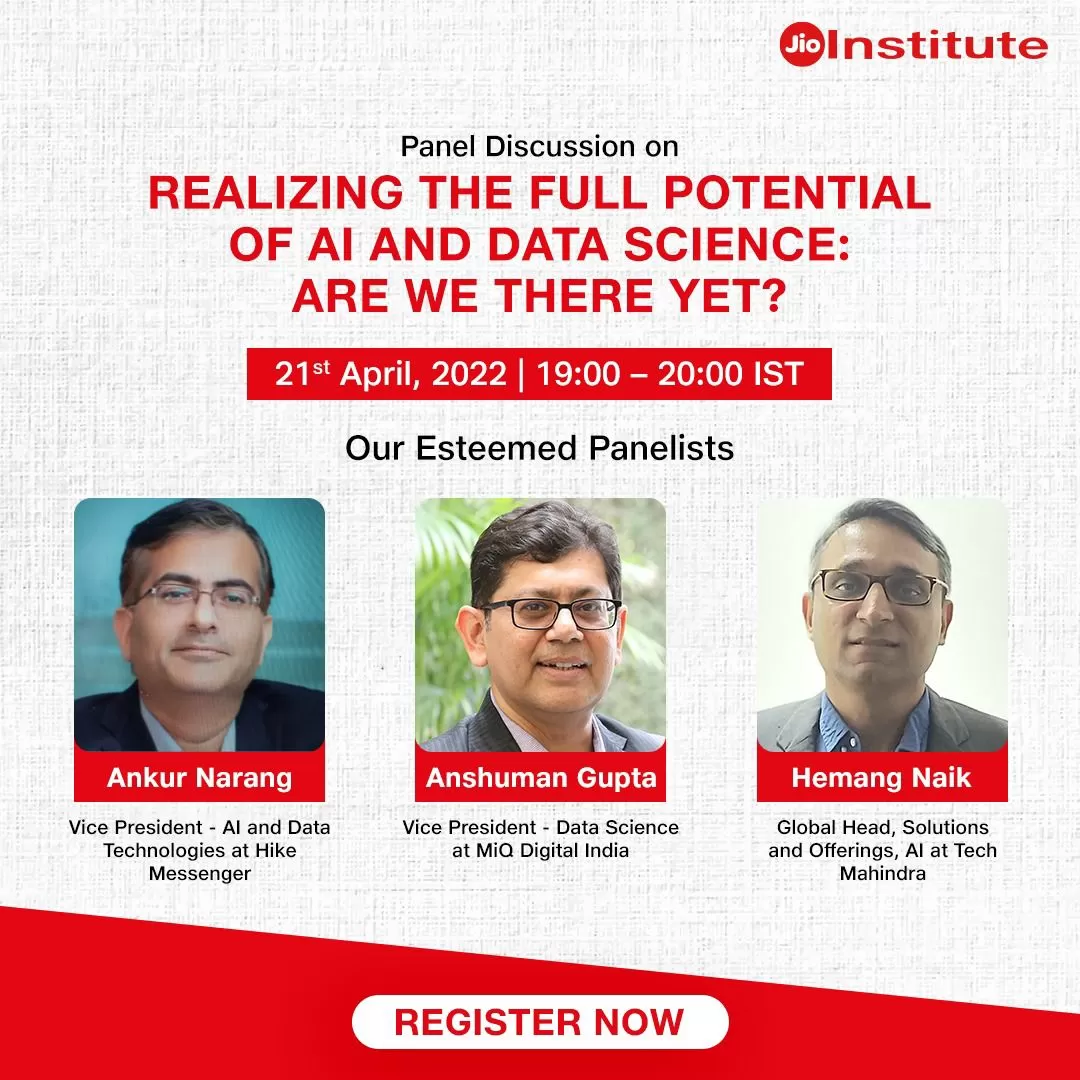 21 Apr 2022 19:00 - 20:00 (IST)
{ "name":"A Deep Dive into AI and Data Science", "startDate":"01-14-2022", "endDate":"01-18-2022", "startTime":"10:15", "endTime":"23:30", "description":"A Deep Dive into AI and Data Science", "options":[ "Apple", "Google", "iCal", "Microsoft365", "Outlook.com", "Yahoo" ], "trigger":"click", "custom_date":"04-21-2022 / 04-21-2022", "custom_time":"19:00 - 20:00", "timeZone":"Asia/Kolkata" }
Speakers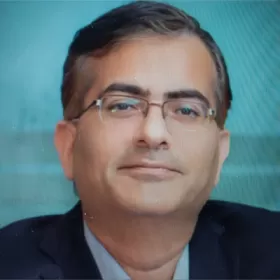 Ankur Narang
Vice President - AI and Data Technologies, Hike Messenger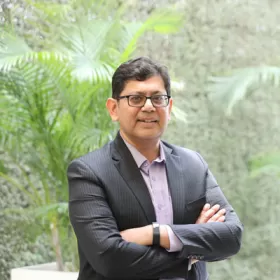 Anshuman Gupta
Vice President - Data Science, MiQ Digital India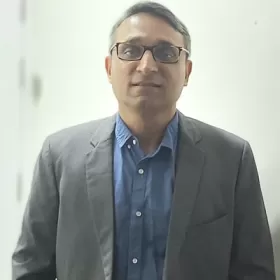 Hemang Naik
Global Head - Solutions and Offerings AI, Tech Mahindra
Introduction
In a podcast with BBC, Sundar Pichai, the CEO of Alphabet (parent company of Google) said that he views Artificial Intelligence as the most profound technology that human beings will ever work on, more important than even electricity and internet. Experts from across the board are of the opinion that we have barely scratched the surface, when it comes to the influence of AI in our lives. Often described as one of the most desirable jobs in the technology space, the role of a Data Scientist has continued to evolve. Fifteen years ago, the term 'Data Scientist' wasn't part of common tech lexicon. In the ensuing years, from Data Mining to Business Intelligence to Data Science to AI, organizations have continued to find new ways of using the huge volume of business data at their disposal. From predicting weather to crop and soil monitoring in agriculture to automatic algorithmic reading of your MRI or X-ray, the breakneck pace at which AI is finding new usages begs the question: at what stage are we in this journey of human intelligence creating artificial intelligence?
Join us for an insightful session where industry veterans and thought leaders from the field of AI and Data Science will shed light on the future of AI and Data Science, a field that according to many will redefine how industries operate and how we live.
What Will You Learn?
• How the field of AI and Data Science has evolved over the years.
• Where is AI headed and what does the future hold.
• Possibilities of AI application in various domains.
• Skills that the Data Scientist of tomorrow will need to acquire.
Who Should Attend ?
Technology business leaders
Entrepreneurs & Startup leaders
Innovation Enthusiasts
Technocrats in Public Service
Data Scientists/ Engineers
Business Consultants
Research and Development Professionals
Marketing Professionals
Project Managers
Architect & Design Professionals