Ethics in AI and Big Data: Defining the Issue, Resolving the Problem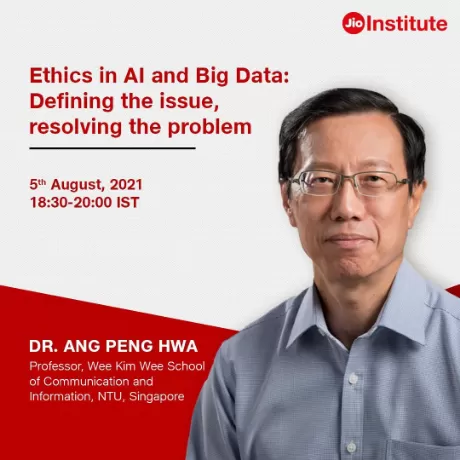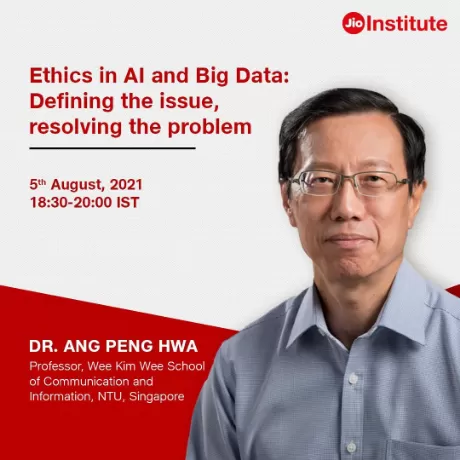 05 Aug 2021 18:30 - 20:00 (IST)
{ "name":"Ethics in AI and Big Data: Defining the Issue, Resolving the Problem", "startDate":"01-14-2022", "endDate":"01-18-2022", "startTime":"10:15", "endTime":"23:30", "description":"Ethics in AI and Big Data: Defining the Issue, Resolving the Problem", "options":[ "Apple", "Google", "iCal", "Microsoft365", "Outlook.com", "Yahoo" ], "trigger":"click", "custom_date":"08-05-2021 / 08-05-2021", "custom_time":"18:30 - 20:00", "timeZone":"Asia/Kolkata" }
Speakers
Dr. Ang Peng Hwa
Professor, Wee Kim Wee School of Communication and Information, Nanyang Technological University, Singapore
Introduction
Artificial Intelligence (AI) is one of the most revolutionary technology of our times. Combined with the increasing prevalence of big data, AI has the potential to influence the way we live, work and even exist in society. The immense scope notwithstanding, it becomes essential to explore the role of ethics while designing AI solutions across the media spectrum including bias in decision making, potential manipulation of data, privacy issues, lack of transparency etc. To some extent, these issues represent not just a moral but also a social responsibility of businesses towards consumers and society as a whole.
In order to learn more about these issues, we would like to invite you to this interactive and informative masterclass on:
Ethics in AI and Big Data: Defining the Issue, Resolving the Problem By Dr. ANG Peng Hwa
The masterclass will argue that ethics in the AI and big data space should aim to resolve ethical dilemmas, which are right vs right issues. Many ethical guidelines do not address ethic problems because they point to clear wrongs, which should be avoided.
What Will You Learn?
Importance of ethics in AI and Big Data
Tools and frameworks to differentiate ethical dilemmas from clear wrongs
Examples of ethical challenges like lack of transparency
How to resolve ethical dilemmas in AI and big data
How to factor unpredictable consequences of implementing AI
Who Should Attend?
Technology business leaders
Entrepreneurs & Startup leaders
Innovation Enthusiasts
Technocrats in Public Service
Data Scientists/ Engineers
Business Consultants
Research and Development Professionals
Marketing Professionals
Project Managers
Architect & Design Professionals