Emerging Trends in Digital Media and Marketing Communications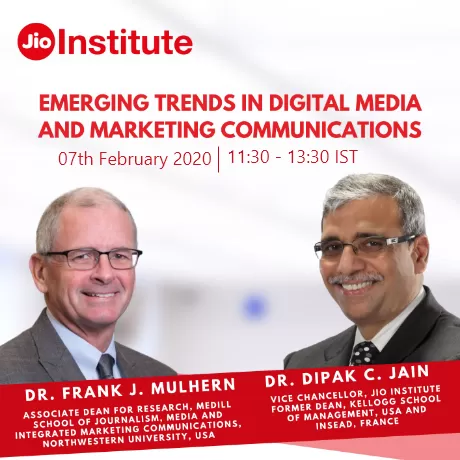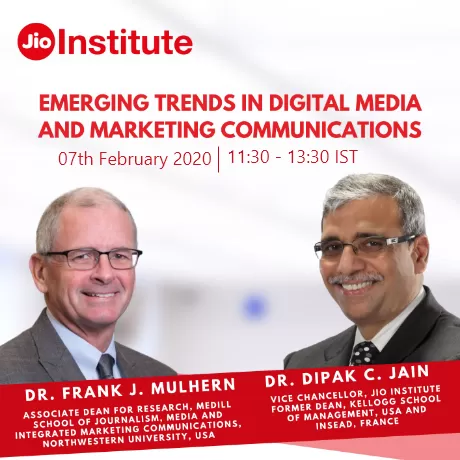 07 Feb 2020 11:30 - 13:30 (IST)
{ "name":"Emerging Trends in Digital Media and Marketing Communications", "startDate":"01-14-2022", "endDate":"01-18-2022", "startTime":"10:15", "endTime":"23:30", "description":"Emerging Trends in Digital Media and Marketing Communications", "options":[ "Apple", "Google", "iCal", "Microsoft365", "Outlook.com", "Yahoo" ], "trigger":"click", "custom_date":"02-07-2020 / 02-07-2020", "custom_time":"11:30 - 13:30", "timeZone":"Asia/Kolkata" }
Speakers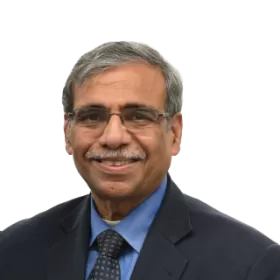 Dr. Dipak Jain
Former Dean, Kellogg School of Management, USA | Former Dean, INSEAD, France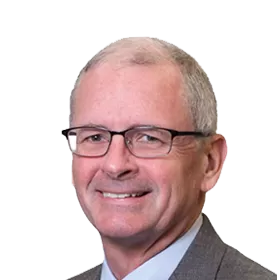 Dr. Frank Mulhern
Programme Mentor, Digital Media & Marketing Communications, Jio Institute | Director of the Retail Analytics Council and Executive Director of Academic Programs in San Francisco, Medill School of Journalism, Northwestern University, USA
Introduction
"Companies in every industry need to assume that a software revolution is coming. This includes even industries that are software based today", said Marc Andreesen, in his 2011 article titled 'Why software is eating the world'. The article retains its relevance today and formed the basis of Dr. Frank Mulhern's introductory remarks during the discussion focusing on 'Emerging Trends in Digital Media and Marketing Communications'. Jio Institute (JI) organized this interaction on December 20, 2019 in order to gain insights from academicians and practitioners about the changing nature of the digital sphere and the need for education programmes and curricula to evolve in tandem. During his talk, Dr. Mulhern even predicted the word 'digital' would soon become obsolete as a result of its ubiquity across academic domains and professional sectors.
Estimates indicate that as of 2019, more than 50 percent of India's population is already online. This presents an opportunity to engage with more than 600 million digitally capable persons across geography and demography. As a result, marketing techniques are undergoing a paradigm shift with the proliferation of digital media platforms as well as the increasing pervasiveness of data. Both Dr. Mulhern and Dr. Dipak Jain, opined on the following broad topics
The data driven evolution of media and marketing domains
The impact on the job market
The need for education processes to catch up.